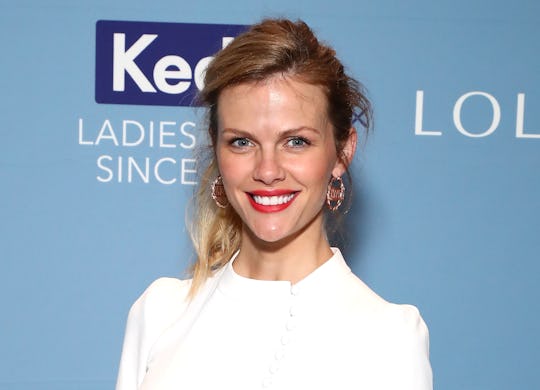 Astrid Stawiarz/Getty Images Entertainment/Getty Images
People Think Brooklyn Decker Gave Birth Already, & Breastfeeding Moms Will Totally Understand Why
Fans have known for some time that Brooklyn Decker, 30, and her husband, Andy Roddick, 34, have been expecting their second child together, a baby girl, according to Us Weekly, but now fans think Brooklyn Decker already gave birth. After she shared a teasing photo on Instagram, followers suspect that the Grace and Frankie star might already be a mother of two.
The couple began dating in 2007 and married in Austin, Texas, in April 2009, according to The Telegraph. They welcomed firstborn Hank in September 2015. And the 2-year-old is a little worried about becoming a big brother, according to People. "Hank's main concern is how the 'baby is going to climb out of the tunnel,'" Decker told People at a Create & Cultivate conference in September. But, now, it seems that the baby may have already done the climbing...
The Sports Illustrated model posted a photo on Wednesday hilariously captioned, "We have an overachiever." In the photo, she's wearing a loose-fitting white tee-shirt that's got what appears to be a breast milk stain over her left nipple. Her followers are congratulating her for the birth of their daughter, since the photo makes it appear as though Decker is already breastfeeding.
"I hope all went well with the delivery!" one commenter wrote. "I never saw the baby post?" another questioned, continuing, "Congrats. Did the baby come out of the breach position?" (In March, she shared a photo on her Instagram of Roddick burning Chinese herbs next to her feet, which she wrote is supposed to help flip the baby.) The new comment thread is also riddled with bottle emojis.
But the Just Go With It actress has yet to confirm the news of the actual birth just yet. Decker and Roddick, a former tennis pro, announced the news of their second pregnancy while Roddick was being inducted into the International Tennis Hall of Fame in Newport, Rhode Island, on Saturday, July 22, Us Weekly reported.
Decker has always spoken candidly about motherhood — the good, the bad and the ugly, including the difficulties of getting pregnant. In November, she posted an Instagram photo with a caption that read, "baby makin' can be stressful, more so when you're confused like I was about cycles and fertile days." A few weeks prior, she captioned a post with: "I'm just going to lay it out there... getting pregnant can be rough. All women can relate to the challenge of trying to navigate two crazy schedules, track your fertile window, figure out what 'fertile window' even means... the list goes on."
On top of helping women track their fertility, Decker had shared advice in a November interview with Us Weekly about everything from loading up on diaper bags "because they go to the bathroom constantly," and investing in some Honest Soothing Bottom Wash because "it helps the stickiness of the poop." She's also been vocal about her feelings on breastfeeding and had even talked about the importance of breast milk. She seems to know a lot about it, having called it a "cure-all" that "gets rid of zits and under eye circles."
But one lesser-known fact is that your breasts can actually start leaking "a thin, yellowish fluid called colostrum before you even give birth." Colostrum is the precursor to the breast milk, according to What to Expect, a site offering information to expecting mothers.
"Your pregnant body is making sure all systems are a go, including your milk production system," the site reads. "Colostrum, the first milk your baby will get, contains more protein but less fat and sugar than mature breast milk."
According to What To Expect, colostrum is easy for a baby to digest and is also chock-full of antibodies that will help in your babies first days. According to What To Expect, "[Colostrum is] also full of antibodies (immunoglobin A, or IgA) your baby didn't encounter in the womb which help protect her from germs that can infect the mucus membranes of her throat, lungs and intestines."
In describing her "pregnancy boobs," one woman told Cosmo that an extremely noticeable difference in her breasts was when they started to leak colostrum and making "crusty marks" in her bras.
"It was a very strange sensation to be able to expel fluid from my nipples before my breastmilk was anywhere near being produced," she said.
That leaves us wondering: Has Decker really given birth to their daughter but is keeping it mum? Or is her leakage a sign that we can expect her to go into labor pretty soon? It's TBD for now, but that 'gram...
Editor's note: After publication, we discovered this article did not meet our editorial standards. There were portions that did not correctly attribute another source. It has been updated to meet our standards.
Check out Romper's new video series, Romper's Doula Diaries:
Watch full episodes of Romper's Doula Diaries on Facebook Watch.