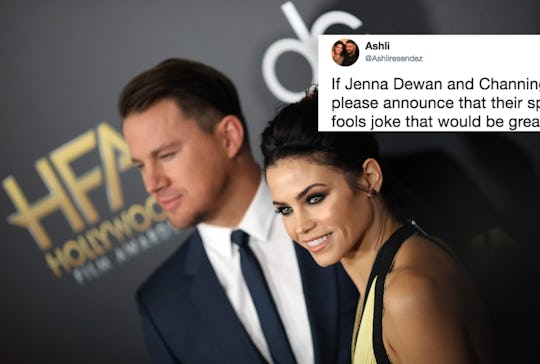 Mark Davis/Getty Images Entertainment/Getty Images
People Think Channing Tatum & Jenna Dewan's Split Is A Belated April Fools' Prank & It's... Sad
Spring is in the air. Flowers are blooming and birds are chirping. Oh, and love is dead. On Monday, Hollywood couple Channing Tatum and Jenna Dewan announced they were splitting after nearly nine years of marriage. It's a devastating blow to those of us who either a) thought we were as good of dancers as the original Step Up duo and watched the movie religiously, or b) can appreciate a very beautiful couple. And to add salt to the wound: people think Channing Tatum and Jenna Dewan's split is an April Fools' prank. Yeah, it's super depressing.
I understand the commitment to a celebrity couple. Take Jennifer Aniston and Justin Theroux who split in February. That was a tough blow to the Hollywood Love Scene (just go with it). But, there's something about Channing Tatum and Jenna Dewan that feels especially painful. It's something one can call The Chris Pratt & Anna Faris Factor: a couple, who from the outside, always seems happy, gorgeous (sorry, they are really attractive though!), and pretty relatable — despite the first two points of being happy and gorgeous. They kind of lay low — they're not really a couple you think about, other than the occasional, "Ugh, they're so cute" while scrolling through your Instagram feed — until the bad news breaks that they're splitting. It feels like a personal blow. If Channing Tatum and Jenna Dewan have fallen victim to The Chris Pratt & Anna Faris Factor, what's to say my relationship won't succumb to the same?
So, when the news broke on April 2, the day after April Fools' Day, fans couldn't believe the news. They were happy! They are beautiful! I relate to them! Then the date set in. Some people started to believe that the news was just a belated April Fools' prank. And that's when it got ugly.
Generally, holidays have buffer days. If you post a Fourth of July Instagram on July 3 or July 5, I'm not going to hold it against you. But, April Fools' doesn't really have that draw, does it? It's a day that kind of sucks to begin with — preying on the gullible is kind of cute when you're in elementary school, but that's about it — so there's really no reason to continue it into the second day of April, now is there?
But, when you want to just pretend like something isn't real, naturally, you're going to start to lean into the April Fools' buffer day that absolutely doesn't exist.
Everyone deals with grief in different ways, and some Twitter users in this situation may just choose to turned a blind eye to their calendar and believe that it's April 1 and this split is just an elaborate prank. It's not, it's something both Tatum and Dewan confirmed on their social media accounts Monday evening, but you do what's best for you.
Editor's Note: The Instagram post has since been deleted.
In a joint Instagram post, Tatum and Dewan shared the following message with their millions of followers.
"Hey world!
So…We have something we would like to share.
First off, it feels odd that we have to share this kind of thing with everyone, but it's a consequence of the lives we've chosen to lead, which we also happen to be deeply grateful for. We're living in an incredible moment in time, but it's also a time where truth can easily get distorted into "alternative facts" :) So we want to share the truth so you know that if you didn't read it here then it's most certainly fiction.
We have lovingly chosen to separate as a couple. We fell deeply in love so many years ago and have had a magical journey together. Absolutely nothing has changed about how much we love one another, but love is a beautiful adventure that is taking us on different paths for now. There are no secrets nor salacious events at the root of our decision — just two best-friends realizing it's time to take some space and help each other live the most joyous, fulfilled lives as possible. We are still a family and will always be loving dedicated parents to Everly. We won't be commenting beyond this, and we thank you all in advance for respecting our family's privacy. Sending lots of love to everyone, Chan&Jenna."
Regardless of the reason — or the day — it sounds like Tatum and Dewan are making the decision that best suites their family and their happiness. And for that, you can't fault them.