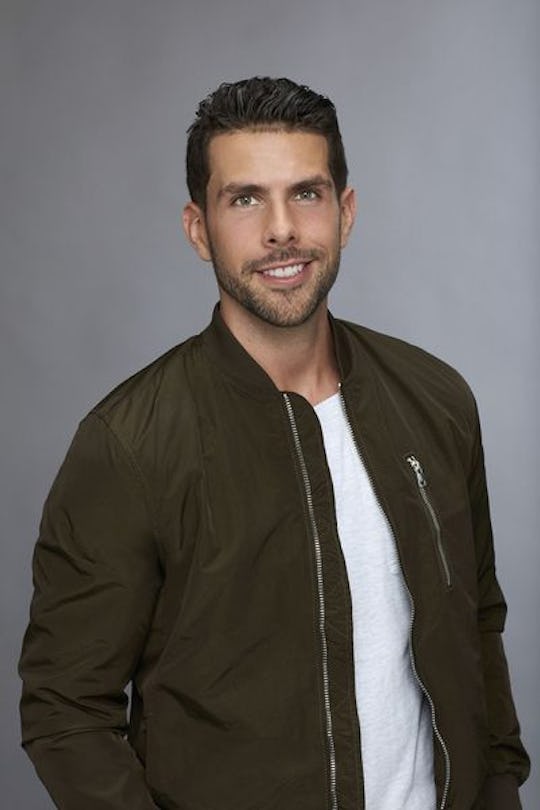 Craig Sjodin/ABC
'The Bachelorette' Fans Think Chris Looks Like A Character From 'Friends'
An all-new season of The Bachelorette is here and fans have now met all the men competing for Becca Kufrin's heart. Naturally, they already have some thoughts on this season's contestants. One stand out was Chris, a sales trainer from Orlando, Florida, who looked familiar to viewers. A number of people think Chris looks like Eddie from Friends, and, honestly, they're not wrong.
If you don't remember Eddie, played by Adam Goldberg, he was briefly Chandler's (Matthew Perry) roommate after Joey (Matt LeBlanc) moved out. Although Eddie seemed like a great roommate at first, even making Chandler breakfast, it quickly became clear that Eddie and Chandler couldn't live together. Unlike Joey, Eddie didn't enjoy watching Baywatch or playing foosball. He also liked to dehydrate fruit for fun. Still, that wasn't the worst of it. Eventually Chandler found out the hard way that Eddie was a bit... unhinged, for lack of a better word.
Eddie accused Chandler of sleeping with his ex-girlfriend, Tilly, and killing his goldfish, which Eddie then replaced with a Goldfish cracker that he named Chandler. He also watched Chandler sleep, which was the last straw for Chandler. However, when Chandler attempted to kick Eddie out for good, he wouldn't leave -- and it wasn't until Chandler left Eddie's stuff out in the hall and changed the lock that he was finally able to get rid of him. Needless to say, Eddie isn't really a character Chris would want to be compared to, but that hasn't stopped the (hilarious) comparisons on Twitter.
Despite the fact that they look similar physically, Chris thankfully doesn't seem to share the personality traits of Eddie, though he is a self-proclaimed fitness and health nut, so perhaps he dehydrates his fruit like Eddie did? Egh, probably not. Besides the fact that he looked like a character from Friends, there were a few other reasons Chris stood out during the season premiere of The Bachelorette.
First, Chris rode in to the show with a 12-person church choir, which charmed Becca, but then Chris quickly got to work eliminating his competition. He told Becca that he believed fellow contestant, Chase, was there for the wrong reasons. According to Chris, a woman, who maybe dated Chase, reached out to him before the show started filming to tell him that Chase's intentions weren't pure. Unfortunately for Chase, his response to the accusation wasn't the best.
"You know, women...," he said without completing what was probably not a great thought. Regardless, what he said was enough to convince Becca to send him home while Chris remained in the game. At least for now. Even though Becca may have taken Chris' advice, she's certainly smart enough to figure out whether or not Chris' intentions in telling her about Chase were purely self serving. Even if that doesn't deter her from choosing Chris in the end, the other guys probably won't be too keen on a tattletale. While who gets a rose each week is Becca's choice, it won't be good for Chris if all the other guys are gunning for him to be sent home.
Still, with 20 other guys still left on the show, Chris definitely has a chance to turn things around and make sure Becca ends up choosing him. However, although fans find his resemblance to Eddie hilarious, no one's exactly rooting for him to win. They're not rooting against him either -- but he just hasn't wowed viewers yet, thus he's not a top contender. Again, viewer opinions don't really matter when it comes to Becca's decision, but fans can usually pick out the guys that are going to last longer than others. Right now the general consensus is Chris will be a goner sooner rather than later, unfortunately.
But, lets remember one thing: anything can happen on The Bachelorette. To see what happens next make sure to tune in for the next episode on Monday at 8 p.m. EST on ABC.