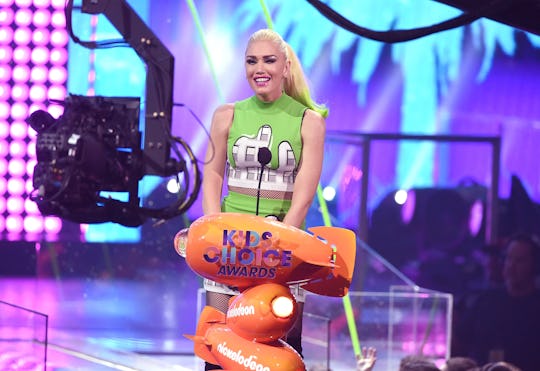 Kevin Winter/Getty Images Entertainment/Getty Images
Please Stop Assuming Gwen Stefani Is Pregnant
Gwen Stefani made an appearance at the Nickelodeon Kids' Choice Awards on Saturday, walking the orange carpet solo and then meeting up with her three adorable sons inside the show. The 47-year-old singer looked like she was having a great time with her kids, as well as friends like Heidi Klum and Ellen Degeneres. Stefani shared photos of the night — from her various outfits to cute BFF snapshots — to her Instagram account, keeping devoted fans up to speed, much to their delight. But instead of simply liking her photos and scrolling on, some of Stefani's followers took it upon themselves to wonder about her appearance and speculate over her figure; Yes, apparently, some people think Stefani is pregnant. Unfortunately, their reasoning is a just a little bit inappropriate.
One of Stefani's two outfits at the Kids' Choice Awards was a badass bright green and white, crop-top and skirt set. The singer even dip dyed the ends of her blonde hair to match the ensemble. After posting pictures of her Nickelodeon slime-inspired look on Instagram, Stefani began receiving a barrage of comments from her followers. It wasn't the outfit that was the center of everyone's attention, although the electric sartorial choice was pretty unique, even for Stefani, who is known for rocking bold, fun fashion. Many of her followers believed a baby bump was visible underneath Stefani's form fitting skirt and began speculating that the singer was secretly pregnant.
Honestly? Are we still doing this in 2017? Wondering aloud whether someone is pregnant because of the size or shape of their body has never been a good idea, and just assuming someone is hiding a pregnancy because their stomach isn't as flat as everyone thinks it should be is unwise, at best.
Tabloids have been constantly speculating about Stefani's relationship with current partner Blake Shelton — one day there are reports that Stefani and Shelton are breaking up, and the next, that they've secretly tied the knot. Pregnancy rumors are nothing new for Stefani and Shelton, either. Just last month there were rumors swirling that Shelton and Stefani were trying to conceive a child naturally after failed rounds of in vitro fertilization. These rumors and subsequent reports are certainly invasive and unfair to Stefani as well. If Stefani and Shelton are expecting, they'll let people know in their own time. Otherwise, it's better for everyone to just mind their own business.
Pregnancy rumors based on women's appearances are unfortunately pretty common. A woman in the public eye could eat a big lunch, be caught at a bad angle, or just accidentally take a big gulp of air in a windstorm and some people would jump at the opportunity to dub her the next celeb mother-to-be. It's unfair to Stefani, as well as women everywhere who have to defend the way they look, let alone their current uterine-status.
Stefani hasn't commented on the latest batch of pregnancy rumors and it wouldn't be surprising if she never does — she owes exactly zero people any clarification.