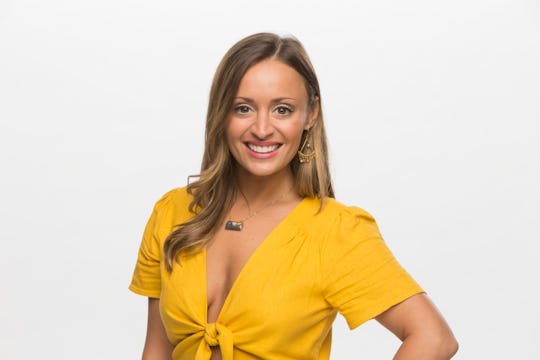 Sonja Flemming/CBS
Kaitlyn From 'Big Brother 20' Looks A Lot Like Another Reality TV Star
As soon as promotional pictures of Big Brother houseguest Kaitlyn Herman appeared online, fans of the show noticed striking similarities between her and another reality TV star. People think Kaitlyn from Big Brother 20 looks like Nicole Richie and to be honest, they're not wrong. At a glance, the two could totally be twins. Viewers have been all over Twitter pointing out how much Kaitlyn and Nicole look like one another, and it's hard not to agree with the comparisons.
Kaitlyn is a 24-year-old Plainview, New York, native who has since relocated to Encino, California. She works as a life coach according to her CBS bio, which is fitting considering she describes herself as both "personable" and "intuitive" (she also throws "dramatic" in there, which probably bodes well for reality TV). Kaitlyn is also a reality television fan, which she lists among her favorite activities alongside meditation and taking Pure Barre classes.
If she's a reality expert then she must be well-versed in The Simple Life (though she would have been fairly young when it first aired) or the more recent Candidly Nicole. But while Kaitlyn may or may not be aware that she has a doppelgänger out there, fans of Big Brother are definitely all over it.
Some Twitter uses ventured tentatively about the resemblance, wondering if anyone besides them had noticed — but it soon became quite clear that many viewers had all spotted the same thing. Gifs of Nicole Richie supported the assertion that Kaitlyn looked quite a lot like her, but nothing drove the point home so much as side by side comparisons.
Not only is their coloring very reminiscent, but both Kaitlyn and Nicole share pretty similar features: they have the same big eyes, and even their noses and smiles look alike. If someone said they were long lost sisters, it would be easy to believe. (Note to anyone looking to remake The Parent Trap: all the work has already been done for you!)
Yet another user, @youngbucit, wondered if perhaps Kaitlyn and Nicole were actually one and the same. Maybe Nicole Richie was looking to reinvent herself for a new reality television endeavor! Okay, okay, that's about as unlikely as it gets — but just reiterates how very like one another they look.
Though the comparison is fun, it won't have any impact on Kaitlyn's chances in the house. She's relying on her natural intuition to win, telling The Hollywood Reporter that at the end of the day it's not about fame for her — she doesn't even care if the general public likes her. "That is very much my personality and I'm genuine person so they will anyway, but I know there are people watching the show who will bully and be hard on you," she said, later adding, "Even if everybody hates me on this show I do believe in a comeback story and no one is going to hate you forever!"
Kaitlyn decided not to plan or strategize ahead of time. Instead, she's going to rely on the vibe of the house to determine her next move. "My big thing is that because I'm so intuitive and pick up the energy of people that I don't even know what my game play is until I feel the energy of the people," she said to THR.
Kaitlyn is so visually reminiscent of Nicole Richie that fans can hardly find anything else to comment on. This opinion is definitely a popular one, but so far it doesn't look like either of the women have had a chance to talk on it. However, if it continues to get this much mileage on Twitter (and the comments show no sign of stopping) then perhaps one day they will.