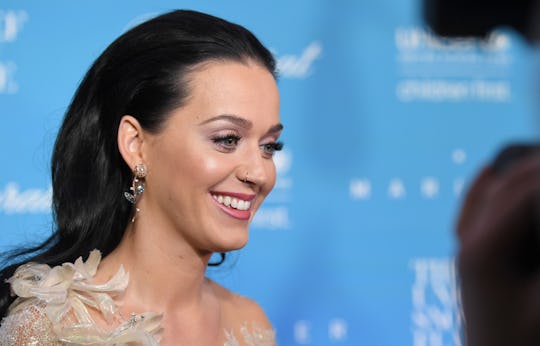 ANGELA WEISS/AFP/Getty Images
People Think Katy Perry Confirmed A Pregnancy With A Belly Rub, & It's A Bit Silly
Wednesday night Katy Perry was given the UNICEF Audrey Hepburn Humanitarian Award by her home girl Hillary Clinton, who introduced the star with a long list of personal and professional accomplishments. She also happened to look like a goddess as she prowled the red carpet in a dress from some sort of fairy tale. But the headline out of the evening is what her boyfriend did, because of course it is. People think Katy Perry confirmed a pregnancy with a belly rub, and it's a bit silly. And sexist. Mostly very, very sexist.
First, just a bit of background leading up to the belly rub. Perry, in case you weren't already aware, is dating Orlando Bloom. Cute couple. Fine. But it's been amazing to see how the relationship has started to overshadow Perry's own career and accomplishments. It reached a kind of frenzy when Perry was spotted just the day before rocking a yuge sparkler on her left hand while out on a dinner date with Bloom, according to ET Online, sending tabloid tongues wagging over the prospect of a new celebrity wedding.
By the next night, the ring was gone, according to The Mirror, dashing everyone's hopes for a big announcement.
So, of course, as soon as she sat down with ET for an interview about her UNICEF honor, she was asked just how great it was to have Bloom with her on her big night.
"Well he was a previous award recipient last year, so he knows it better than I," Perry responded to ET downplaying her own accomplishment almost reflexively. "And he's been a UNICEF ambassador for over 10 years and I've only been a few years so he's kind of shown me some of the ropes."
It was Hillary Clinton — whom Perry campaigned hard for leading up to the election, and who made a surprise, rare appearance to present Perry with the award — who finally got around to talking about Perry's credentials. Clinton said, according to The Daily Beast:
On a personal level, I cannot tell you how delighted I am to be here to help celebrate a global megastar, a social-media queen with the most Twitter followers in the world—although she's getting some competition—and someone whose powerful voice and creative lyrics remind us when you get knocked down to get back up.
I have seen Katy's commitment to the causes she believes in firsthand. I've gotten to spend time with her and I know how deeply she cares about making our world a better place. She is serious about understanding the complex problems we face and pulling people together to solve them. We need champions like Katy now more than ever: her passion, her energy and, yes, her voice, louder than a lion.
The folks over at tabloids, though, were far more dazzled by how "cute" Bloom was, as one of their sources in the room called him, as he supported Perry throughout the evening. Then one a tabloid source said, as Clinton spoke, Bloom pulled Perry close to him and rubbed Perry's belly. Reportedly, it was flashed on the big screen in the room at Cipriani Wall Street.
Way to steal a girl's thunder while her hero sings her praises before receiving a prestigious award.
Perry's reps, incidentally, told Page Six she's not pregnant. Perry will no doubt let the world know when she's got a litte Katy-Kitten on the way. But it sucks that just one ham-handed move from a dude would force Perry, or any other women for that matter, to have to publicly comment on the contents of her womb.
Women's accomplishments and ambitions are almost always diminished and treated by the outside world as less important than her "traditional" female roles, which must proceed in the following order: good virgin girl, sex kitten, dutiful wife, mother, old lady. And any path that deviates from that course is just not considered as valuable or worthwhile.
And that path that's expected of women becomes most obvious in instances like this where the press, and pretty much everyone else, would much rather focus on Perry's coupling and pro-creating than on her talent or contributions.
Perry has a popular boyfriend everyone is focused on who might have made some weird moves at a dinner. How is it that's what people are talking about instead of, I don't know, the fact that Perry is killing it? She's a talented, mega-popular pop singer who wears the hell out of some clothes and seems to try and do good where she can. She's entitled to live her life, just like every other woman, without the world focusing on every little bump and change in her physique and determining her value accordingly.
Perry's body isn't public property. And it's time to stop treating women as if we have no value beyond people's judgement over the sum of our body parts. Also, get it together Bloom, and don't ever rub a woman's belly in public again! From now on, that's apparently a no-go. Pass it on.