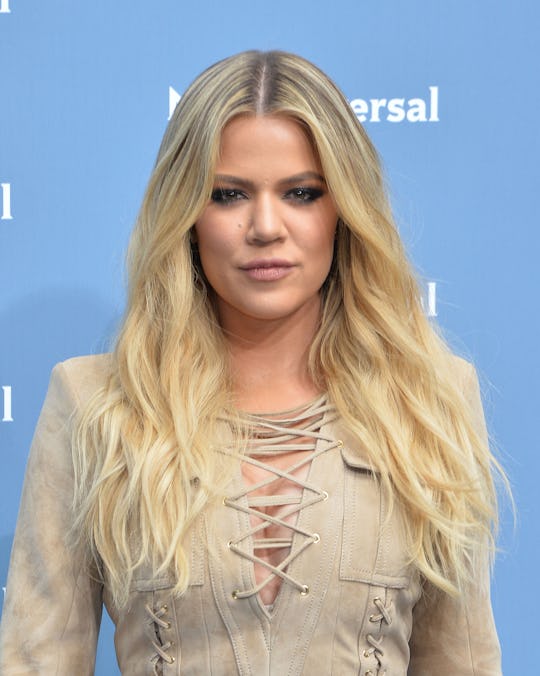 Slaven Vlasic/Getty Images Entertainment/Getty Images
People Think Khloe Kardashian Shut Down Haters Giving Her Relationship Advice
It's no secret that Khloé Kardashian has experienced a whirlwind of major life events during these past few months. Not only has she welcomed her first child with boyfriend Tristan Thompson, but only two days before giving birth, the Keeping Up with the Kardashians star was blindsided by reports claiming Thompson had cheated on her throughout the pregnancy — and with multiple women, at that. I mean, new motherhood can be such an emotional and stressful transition as it is. Let alone having to deal with relationship drama on top of it all. Well now, people think Khloé Kardashian shut down haters giving her relationship advice. And honestly, I don't blame her in the least
E! Online reported that the Good American designer took to Twitter on Sunday with a mini rant about the "advice" she gets. Although Kardashian didn't come right out and say she's speaking about the reported Tristan Thompson cheating scandal, that's exactly what her followers concluded. "People spend too much time finding other people to blame, too much energy finding excuses for not being what they are capable of being. People these days are focused so much on someone else's life instead of their own," Koko began in the series of tweets.
Kardashian continued:
They love to give advice but are not living the advice that they are offering. Most of the ones giving advice are in no place to give anything at all. Focus on your own world. I'm sure there's cracks there that need your attention. We all got em.
On one hand, I totally understand what she's saying. None of the people giving her "advice" on social media have a clue what's going on during her everyday life. It's incredibly easy for someone not in her situation to say, "Leave that cheating scumbag!" But reality isn't always so simple. Plus, Kardashian and Thompson mow have a little girl together, after all. That definitely complicates things.
"Misery loves company… people can't stand for someone else to flourish and be happy," Kardashian wrote in a third consecutive tweet, People reported. "Nowadays people thrive off ones downfall rather than their success. Sadly." Later on Sunday, the new mom returned to Twitter, writing:
Wild that people assume you're speaking about something and they run with it,. Anything and everything gets twisted into something it's completely not. Lord, I'm remembering how much I loved my social media break LOL.
As a refresher, Thompson was caught on video kissing a mystery woman at a Manhattan bar on April 10 — while Kardashian was at their Cleveland home just days before giving birth, the Daily Mail reported, A second video soon emerged of Thompson getting intimate with two women at a Washington, D.C. bar, TMZ reported. Kardashian gave birth to their baby girl, True, on April 12, Us Weekly reported. Despite the circumstances, she allowed Thompson to be present during the delivery, Page Six reported.
Neither Kardashian nor Thompson have addressed the videos or the reports of his infidelity. However, Kardashian has been posting some pretty cryptic message on social media, People reported. And plenty of followers have jumped to the same conclusion about whom she's referencing. Like the message she shared Saturday on Instagram Stories, which read, "You can be a good person, with a beautiful spirit, and still possess the authority to tell someone: 'You got me f—ed up.'"
Look, I admire Khloé Kardashian for not being afraid to call it as she sees it. And while she does make some valid points, what I think she's missing is this: The majority of her fans and followers probably just want to see her happy. I would imagine most of them are indignant on her behalf about Tristan Thompson's reported infidelity — and they think she deserves better. Still, it's her life. And as much of it as she willingly shares with the world, the issues between herself and with Thompson seem to be on a no-go list. So unless Kardashian's followers want to see another social media hiatus, perhaps it's time to back off.