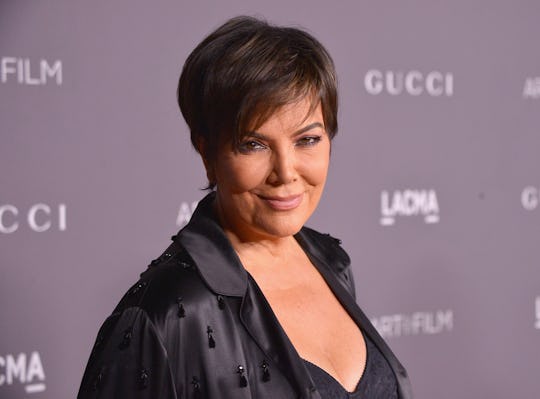 Charley Gallay/Getty Images Entertainment/Getty Images
People Think Kris Jenner Accidentally Confirmed Khloe's & Kylie's Pregnancies On Instagram
Out of everyone who might accidentally spill the beans about the rumored Kardashian pregnancies, who would you expect to do it? My money was certainly not on "momager" Kris Jenner, but people think Kris accidentally confirmed Khloé and Kylie's pregnancies on Instagram on Wednesday. But the truth is, the post people are heavily scrutinizing may not reveal much of anything after all.
Fans of the Kardashian family know for sure that Kim Kardashian West is pregnant via surrogate. But Khloé and Kylie's pregnancies are still technically rumors, and haven't been officially confirmed. However, a photo Kris shared on Instagram may hint at just how many grandbabies she is expecting to have very soon.
In the photo, Kris thanked Burt's Bees Baby for sending a collection of "family jammies" for her grandchildren, and fans are freaking out because there are nine pairs of pajamas in the photo, according to BuzzFeed. Right now, Kris only has six grandkids — Mason, Penelope, Reign, North, Saint, and Dream. But if Kim, Khloé, and Kylie are all expecting one baby each, Kris would have a total of nine grandchildren when they're all born.
Now, it could just be that there are extra outfits in the photos. Kids are notoriously messy, and it would actually be a smart move on the part of the company to send extra pairs just in case. But that's not the theory fans are accepting, and if they're right, Kris might have just blown the big Kardashian pregnancy news with just one Instagram post.
In the caption, Kris specifically wrote, "Can't wait to cuddle up with the kids #holidayseason thank you for a collection for every one of my grandchildren ❤️ #blessed #grateful thanks for the idea @oprah !!"
Note the "every one of my grandchildren" comment. Fans definitely don't think that's a coincidence. Comments on the post say things like, "COUNT THEM," "jammies — not 6 omg," and "The pink one to the right must be Kim's, and the other 2 plaid ones must be for Khloé and Kylie." In other words, they're pretty convinced that those extra jammies are not a fluke.
But Kylie has not confirmed that she's pregnant, according to E! News. And Khloé has not publicly confirmed her rumored pregnancy either, Us Weekly reported. So there's no official word that Kris will soon be a grandma to nine grandkids, though there have been plenty of rumors and hints suggesting that that's the case.
Kim, on the other hand, is definitely expecting via her surrogate, and recently had a baby shower in celebration of baby number three, according to The Huffington Post. Kris reportedly toasted to her next grandchild, "lucky number seven," at the event, so it's safe to say there aren't any twin surprises in store from that particular Kardashian mom, at least not for this pregnancy.
So what of the other two pajama outfits? Maybe the clothes really are meant to hint at two other Kardashian pregnancies, but they might also just be duplicates for the various Kardashian grandbabies to share.
It's sort of hard to believe Kris would make such a big mistake when it comes to such momentous Kardashian news. She is nothing if not a shrewd manager of the family's affairs, and it seems really unbelievable that she would "accidentally" confirm rumored pregnancy news with an Instagram photo, as fans are suggesting.
But maybe Kris meant to hint at the fact that nine grandchildren will be wearing the outfits Burt's Bees Baby gifted to her family. Whether or not she's actually expecting to be a grandmother to that many kids, the rumors about Kylie and Khloé have kept the family in the news cycle for months. It might be a little unbelievable that Kris would make a mistake like this on social media, but what if it's not a mistake at all? Jenner might know exactly what she's doing, and if it creates headlines and news in the Jenner-Kardashian family's favor, it seems like a win for them.
Whether or not the photo and the nine tiny pajamas featured in it are "confirmation" that Khloé and Kylie are also pregnant, the picture has done one thing that the Kardashians depend on — it's kept people talking.
Check out Romper's new video series, Romper's Doula Diaries:
Watch full episodes of Romper's Doula Diaries on Facebook Watch.