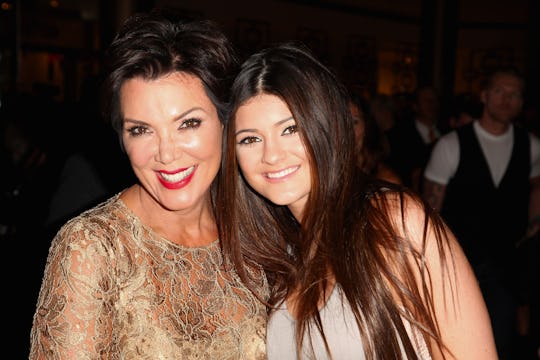 Brian To/Getty Images Entertainment/Getty Images
People Think Kris Jenner Hinted At Kylie's Pregnancy On 'KUWTK'
Over the past few months, Kylie Jenner has been keeping her life private, choosing to not be in the public eye as much as she used to be. This can be frustrating for her fans, especially since they're dying to know everything going on in her life. While they might be out of the loop, her family members, like mom Kris Jenner, are certainly inside the loop and probably know about everything going on in her life, including the truth about her rumored pregnancy. This knowledge gives Kris a lot of power. Because of this, and due to events that played out in an episode on Sunday night, people think Kris Jenner hinted at Kylie's pregnancy on Keeping Up With The Kardashians and it is very possible that she did. Especially with how much Kris knows about Kylie.
KUWTK returned to TV from a holiday hiatus on Sunday and the program was definitely missed. Needless to say, lot happened over the holiday break while the show was off the air — Kylie didn't appear in the Kardashian Christmas card (extremely disappointing) and people thought she went into labor (false alarm). With so much speculation happening, it was nice to see the Kardashian's lives play out on television, rather than playing out through the rumor mill.
But on last night's episode, Kylie was notably absent from the show but the plot very much concerned her. On the episode, Kylie called Kris on the phone, informing her that "she caught one of her employees taking photos of her in her own home," according to People. Now I can think of a few reasons why someone might want to do that and people on Twitter seem to think they have a clue, too.
After Kylie caught the employee taking pictures of her, Kris expressed her fears for her youngest daughter to the cameras. Kris said in the episode, according to People:
I feel really bad for Kylie because there's always somebody that's trying to exploit a certain situation. To have somebody in her own home try to snap pictures they shouldn't be snapping is really, really stressful. You want to be able to trust the people that you're surrounded by, but we have to be really alert all the time, and that's extremely upsetting when you feel like you can't be in your own bedroom or bathroom.
Those Twitter users are right — this quote from Kris is incredibly telling. Kylie's privacy should be respected no matter what, especially by her own employees. It is incredibly hard to imagine living in fear and mistrust because you don't know who you can trust. But on the other hand, this quote leads people to wonder what kind of "certain situation" the employee was trying to exploit. If you're anything like the viewers at home, then you can probably assume that Kris is talking about the employee taking pictures of Kylie's baby bump (even if she didn't flat out say it).
It should be mentioned, too, that this season was filmed after the rumors about Kylie's pregnancy began circulating. The holiday episode of this season of KUWTK was filmed in October, according to Refinery 29, after the news broke that Kylie was reportedly expecting a baby with her boyfriend, Travis Scott, in late September. If you put two and two together, it can be assumed that this employee was taking photos of Kylie at this time. And while Kylie has showed no signs of revealing her pregnancy any time soon, fans have still been watching KUWTK with the intent of finding something out. This quote from Kris brings them one step closer.
But maybe Kylie was upset with this employee taking photos of her, not only because she might be pregnant, but because she just really wants her privacy. An insider told Us Weekly that Kylie has been keeping to herself and posting less on social media because she wants to keep this aspect of her life to herself and not with the rest of the world. On top of this, for the past few months, her family has gone through lengths to protect Kylie's privacy. If you lived your life life on camera and social media for the past 10 years, you would be overwhelmed and would want to take a break at some point in time. I would be upset, too, if someone, like an employee, was trying to ruin that.
Although this episode failed to break any major news, it indicated that a certain something might be going on with Kylie. And at this point, fans will take whatever they can get.