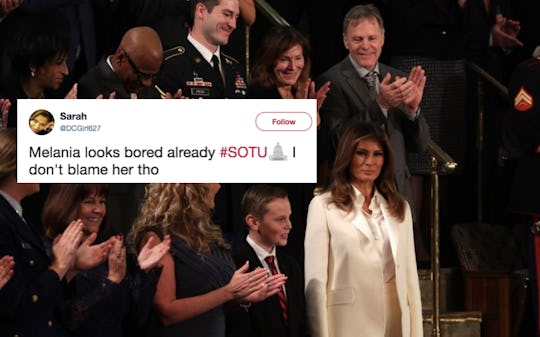 Alex Wong/Getty Images News/Getty Images
Melania Looks Super Bored At The State Of The Union & Twitter Is Losing It
Well, folks. It's officially been more than one year since President Donald Trump has been in office. And as notable as that is, people can't help but notice something rather peculiar about the POTUS's first State of the Union on Tuesday night. Yeah, Trump's wife and first lady had a lot of people talking, and not just about her outfit. Instead, a lot of people thought Melania Trump looked bored AF at the SOTU, and it's actually pretty hilarious.
Now, there's no way to actually know what was going on in Melania's mind when the cameras panned to her, but it's probably a pretty safe guess that, based on her facial expressions, she wasn't having the time of her life.
While Melania was seated next to two of her guests for the evening, she didn't arrive with her husband, breaking a years-long tradition, as CNN reported. So when she arrived to the Capitol building on Tuesday night, and took her seat looking vastly unimpressed, Twitter definitely took notice.
Of course, Melania has often been the subject of intrigue and commentary with her mysterious demeanor and silence on big issues, but at the State of the Union, she took looking "bored" to a whole new level.
Seriously, People Couldn't Help But Notice How Out Of It She Looked
Now, while Melania at least went to the State of the Union, that doesn't mean she enjoyed it. After all, rumors that her and Trump's marriage is on the rocks has dominated headlines for the past week, and she's probably pretty sick of it all.
In case you missed it, Melania hasn't been seen publicly with Trump since New Year's Eve, as the New York Daily News reported. On Jan. 12, The Wall Street Journal reported that a "lawyer for President Donald Trump arranged a $130,000 payment to a former adult-film star a month before the 2016 election as part of an agreement that precluded her from publicly discussing an alleged sexual encounter with Mr. Trump." Romper's request for comment from the White House regarding these reports has not yet been returned.
Whether or not these reports have any validity, it seems like Melania could have a lot going on at the moment, so it's understandable that she might want be a bit removed from it all on Tuesday night. And that's something Twitter definitely noticed.
People Couldn't Help But Notice That The First Lady Looked Like She Couldn't Wait For The Night To Just End
Not long before Tuesday night, many were unsure whether Melania would even attend the 2018 State of the Union. After all, on Jan. 24 CNN reported that Melania wasn't attending the World Economic Forum in Davos, Switzerland alongside her husband, another break in tradition. As The New York Times reported, "The reports of a payoff blindsided the first lady, who was furious with her husband, according to two people close to the couple. She has kept a low profile since." And seriously, if Melania wants to hole up in the White House or a resort or whatever, I think she should definitely do so. I just want her to be safe, ya know?
Nevertheless, Twitter users couldn't help but try and make light of Tuesday's State of the Union, because the actual state of America is a little daunting.
Naturally, People Just Wanted Something To Laugh At
It can't be easy being the first lady, especially when you have a higher approval rating than your husband. Nevertheless, it's still pretty humorous that Melania did show up to the State of the Union, and that she looked like she definitely didn't want to be there.
Because I'm pretty sure women across the world were all thinking the same thing: Same, girl, same.
Check out Romper's new video series, Romper's Doula Diaries:
Watch full episodes of Romper's Doula Diaries on Facebook Watch.