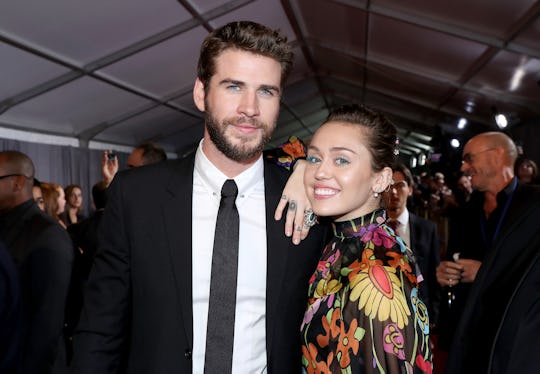 Rich Polk/Getty Images Entertainment/Getty Images
People Think Miley Cyrus & Liam Hemsworth Are Preparing For A Baby For This Reason
Fans of Liam Hemsworth and/or Miley Cyrus know the on-again-off-again couple has been through a lot since they first met on the set of The Last Song in 2009. The power couple dated and broke up a few times before becoming engaged in 2012 — and then the engagement was off shortly after Cyrus' infamous twerking routine. However, the couple appears to have been going strong since the beginning of 2016. And now, people think Cyrus and Hemsworth are preparing for a baby for a very specific reason.
The Daily Mail reported that Cyrus, 25, and Hemsworth, 27, are renovating their Tennessee home to make it more "family friendly" — because, NW Magazine speculated, they "prepping to welcome a little bub into the world in 2018. Apparently, Cyrus purchased her Franklin farmhouse for $7.5 million back in August, and already, she's installed two extra wings to the property. The publication reportedly spoke to a local furniture store about the possibility of Miley looking at nursery items. "Miley and her mum Tish have been in here... I can't say exactly when, but they've been buying furniture here," an employee reportedly told NW Magazine.
Romper has reached out to both Hemsworth's and Cyrus' representatives for comment on these recent reports, but did not receive an immediate response.
Still, not everyone's convinced. "I mean, famous people renovate their home just to renovate it — that's what they do every six months," one E! News Daily Pop anchor commented. "That doesn't mean they have a baby on the way. That means that they have money and time, and that's what she's doing right now." Another E! News Daily Pop anchor weighed in with, "I think she's just enjoying being engaged. Now if anybody wants a baby, it's him. Because he sees his older brother Chris with those three kids and how happy he is. He's getting baby fever more than she is."
Editor's Note: The YouTube video has since been deleted.
Hmmm, interesting. This — coupled with the fact that Cyrus recently decided to give up alcohol and marijuana, as The Sun previously reported — makes for a convincing argument. "I haven't smoked weed in three weeks, which is the longest I've ever [gone without it]," Cyrus told Billboard in May. "I'm not doing drugs, I'm not drinking, I'm completely clean right now! That was just something that I wanted to do." Could she be "preparing" her body, as well as her home, for starting a family?
Editor's Note: The Instagram post has since been deleted.
This timing of the couple's home renovations are notable, too. Back in November, a photo Miley posted on Instagram ignited a firestorm of rumors that the Malibu singer might be pregnant, according to Us Weekly. "So close to b-day time! Stoked for a day full of Tofurkey & loved ones! Ain't it ironic? #VeganTurkeyBaby" Cyrus captioned the photo, which featured the star standing under balloons spelling out, "Miley," while she resting her arms on what appears to be a bloated belly. Cyrus clapped back the very next day on Twitter. "RUDE!!! Not pregnant just eating a s*** ton of tufurkey." LOL.
And who could forget this video of Cyrus leaving a hospital in 2013? The star was leaving a hospital amid a swarm of paparazzi, when someone shouting out, "Miley, are you pregnant?" To which the singer shot back, "No, I'm f***ing sick, you b****!"
So yeah, this definitely isn't Cyrus' first rodeo with pregnancy rumors and speculation.
As a fan of both Miley Cyrus and Liam Hemsworth, I have to say I'm skeptical about the most recent pregnancy rumors. Just because Cyrus is renovating her home doesn't mean there's a bun already in the oven, or that she and Hemsworth are necessarily planning anything soon. I mean, it makes sense to make room for the possibility of children in the future — especially if they're planning to settle down at this house for the long run.
Still, maybe everyone should just back off and let Cyrus and Hemsworth do their thing without being on high bump alert. At the same time, this tweet pretty much sums up my inner emotions on the possibility of a Miley Cyrus pregnancy.