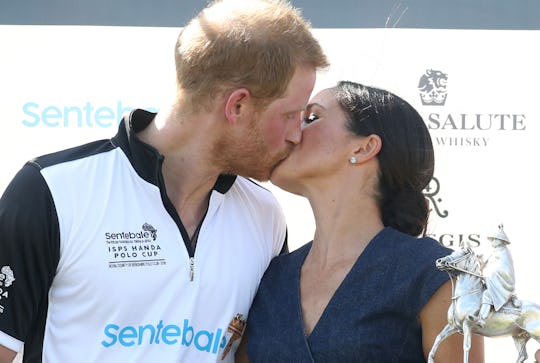 Chris Jackson/Getty Images Entertainment/Getty Images
People Think Prince Harry & Meghan Markle Will Have Kids Soon For This Very Silly Reason
Now that Prince Harry and Meghan Markle are married and the royal wedding is but a distant memory, it seems like the world has royal babies on the brain. Will the Duke and Duchess of Sussex be starting a family soon? How many children do they want? What will their last names be? For many fans of the royal family, it's not even a matter of "if," but "when" the newlyweds will be making the big announcement. While the public is inevitably already on high alert for any hint of baby news, they're also grasping for any and all hints that the pair might be preparing for a little one in the near future. Most recently, people seem to think Prince Harry hinted he and Markle will have kids soon and it's for a pretty silly reason.
As TIME reported on Thursday, a car believed to be owned by Prince Harry is apparently on the market — with a sale price of more than $93,000. (Yes, seriously.) The car in question is an Audi RS6 Avant, according to TIME, the same car that Prince Harry drove to Pippa Middleton's wedding reception with Markle when they were dating.
A spokesman for Overton Prestige explained that "due to data protection we can't confirm who sold the vehicle but we are completely satisfied that this car was used personally by Prince Harry over the course of the last year," BBC News reported. In regard to the reasoning for Prince Harry selling his vehicle, Auto Trader's editorial director reportedly had this to say, according to Cosmopolitan: "17 reg and low mileage, so it begs the questions why is the prince selling so soon?... Maybe he's on the market for a bigger family car."
The thought process, I guess, is that Prince Harry is selling his Audi because he's looking into purchasing a larger car that will be able to fit car seats — thus, the Duke and Duchess of Sussex are thinking about starting a family in the near future. Never mind that, you know, he might just want a different car. Or perhaps his lease was up. Nope, there's either a bun in the oven already, or Markle forced him to ditch it for a more family-friendly option. *Eye roll*
Thankfully, there are a few voices of reason among the "OMG, there's gonna be a baby soon!" commentary. One Twitter user wrote, "I love how all these stories are saying Prince Harry's Audi is for sale because he needs more room for car seats. I have zero doubt that a Baby Sussex is on the horizon but the royals all lease Audis & then the cars are sold when the leases end. Everyone calm down!"
Another Twitter user pointed out, "I think he could afford a couple of cars! Hardly likely to have to swap!"
Even though Prince Harry selling his car isn't a definite sign that there's a baby Sussex on the way, the general consensus is that there will be — and soon. Markle's now-estranged father even predicts they'll be a royal baby very soon, People reported. Back in June, Thomas Markle told Good Morning Britain that she "has wanted children for a long time" and that he thinks "it will happen sooner or later."
In November 2017 — shortly after Prince Harry and Markle became engaged — Prince Harry talked about the prospect of parenthood. "I think, you know, one step at a time," he said, according to People. "Hopefully we'll start a family in the near future." And in a 2016 interview, Markle revealed that she had plans of ultimately having children of her own. "I can't wait to start a family, but in due time," she told Lifestyle magazine.
While it's pretty safe to say that both Prince Harry and Markle at least have the desire to become parents, it's difficult to say when it will happen. But I highly doubt that there's any correlation to the Duke of Sussex selling off his car and an impending pregnancy announcement. So it's probably for the best for everyone to CTFD and just let the newlyweds settle into their new lives together.