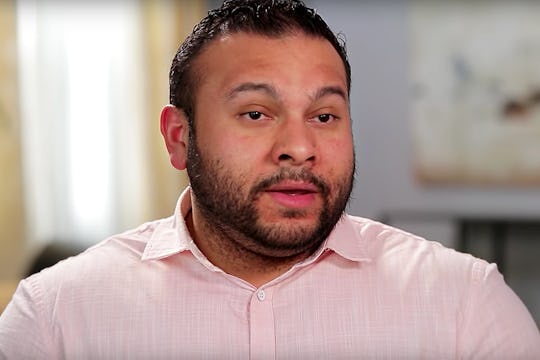 TLC
All The Evidence That Ricky Is Being Catfished On '90 Day Fiancé'
It's 2018, so people are more internet savvy than ever before. Even so, catfishing still happens — and it could be devastating if you develop feelings for said catfish. Take, for example, a certain star of TLC's hit show, 90 Day Fiancé.´People think Ricky is being catfished on 90 Day Fiancé: Before the 90 Days, and I really feel for him if that's the case.
Suspicions erupted on the 90 Day Fiancé subreddit when fans saw Ricky's "Catfish Blues" Instagram post in which he tagged 90 Day Fiancé: Before the 90 Days. The photo in the post is artwork from the album Catfish by Simon Kinney-Lewis, which does include a song titled "Catfish Blues." So it's not as if he's being totally explicit with this message, but it does seem fairly clear. Fans brought this up on a Reddit thread, which is aptly titled "Ricky gives up the tea on himself???"
I'm sure viewers will see for certain if Ricky gets catfished on Before the 90 Days. The promo for the show doesn't give an indication of which way this will go one way or the other. But fans have been suspicious of Melissa from the start. Ricky, who lives in Columbus, Ohio, met "Melissa," who apparently lives in Colombia, on a Latinx dating website. In a talking head interviews Ricky recalls how hot she thought she was and how they immediately hit it off. "The chemistry was there," Ricky assures viewers.
After communicating for three months, Ricky knew Melissa was the one. He booked a flight to Colombia and planned on proposing. While telling his friends this plan, one commented that his divorce isn't even finalized yet. Ricky also divulges that he's been sending money to her every week — which is obviously a huge red flag.
Once in Colombia, he arranges to meet Melissa at a restaurant but he's worried she won't show. It doesn't help that she's stopped answering his texts. "If Melissa doesn't show up tonight," Ricky says, "I'm going to be heartbroken."
Viewers won't know the resolution until the show airs, but from Ricky's cryptic Instagram post, fans have a pretty good idea what happens.
Even if Ricky finds out he's being catfished, he's certainly not alone when it comes to all the drama that's happening this season. In the case of online relationships between people in other countries, there's bound to be drama, right? Any kind of relationship, even if you meet the old-fashioned way, has plenty of ups and downs.
Why do these people put themselves through all of this? For the pursuit of love, of course~ "I'm traveling halfway across the globe to meet a woman that I met online. Yes, it is crazy," Ricky says in a promotional clip of the show. "But this could be the love of my life." There you have it. I want to say I hope it turns out well for him, but judging by the evidence, I have my doubts. 90 Day Fiancé fans will just have to watch and see for themselves whether Ricky's Instagram was on target, or just a red herring.