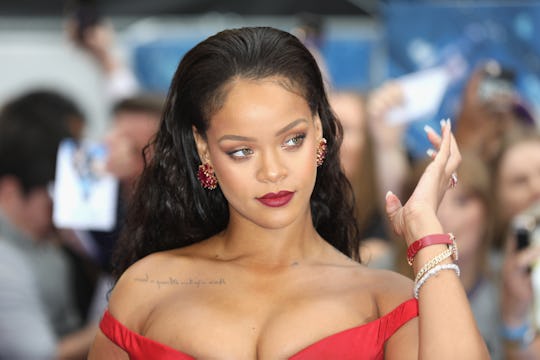 Tim P. Whitby/Getty Images Entertainment/Getty Images
People Think Rihanna Is Pregnant & Everyone Needs To Chill
So many celebs are announcing their pregnancies this summer. Maybe this trend is making people think Rihanna is pregnant too, despite any real evidence of this. OK, would we love a baby RiRi? Absolutely. But everyone can just chill out for now, because the conspiracy theories are getting kind of absurd at this point.
Rumors of a Rihanna pregnancy started swirling back in May of this year. In a paparazzi shot, Rihanna was wearing baggy jeans and an off-the-shoulder button down, epitomizing style and comfort — well, minus the white stilettos that she was rocking. Sure, she has a glow about her, but doesn't she always? Rih's got flawless skin to begin with. This covered, baggier look has been raising eyebrows, and the internet's landed on pregnancy as the reason why.
Fans are also freaking out about Rihanna's fuller chest. At her most recent Valerian premiere, Rihanna's cleavage was truly next-level. This, combined with her empire-waisted, flowing dress, has added more fuel to the fire.
Let's all just step back for a second. Isn't it, I don't know, a little rude to continuously ask someone if they're pregnant, especially when they haven't offered any comment on the subject? You wouldn't bother a stranger about their pregnant or non-pregnant status, so why bother a celebrity? Whether Rihanna's going through a major style renaissance, a pregnancy, or some body changes is really nobody's business but her own.
Of course, it's not like all of these comments about at maybe-baby are malicious. Rihanna appears to be at a really solid place in her life, and many might assume she's ready for a little more love in her life. In addition to all of her own professional endeavors, she's got a boyfriend, Hassan Jameel, who's successful in his own right. No, he's not an artist, but he is a Saudi Arabian businessman and billionaire whose family owns the distribution rights for Toyota cars in a bunch of countries. In all the sneaky, paparazzi shots of the couple, they look incredibly happy and comfortable together. But again: Just because the two seem to be in a stable relationship doesn't mean that a baby's on the way!
We had a doubly-pregnant Beyoncé, and wasn't that enough for one year? If you need a pregnancy surprise to snack on, look to Serena Williams' pregnancy, as she's been super open about her journey, and comfortable answering questions put to her in interviews and on social media. There are so many pregnant celebrities in 2017, and if Rihanna joins them, then great, but for now, let's all give the baby watching a break.