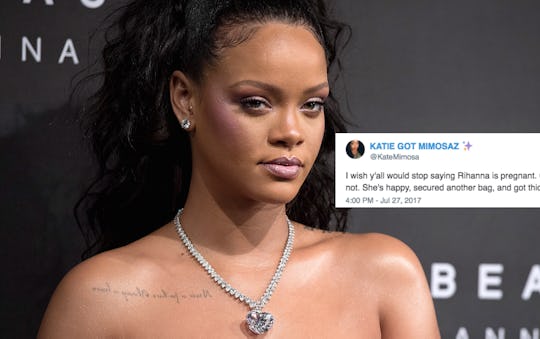 Chris J Ratcliffe/Getty Images Entertainment/Getty Images
People Think Rihanna Is Pregnant, & It's Actually Really Annoying
As celebrity fans continue to scrutinize every single one of Kylie Jenner's deliberately cryptic Instagrams for signs of a maybe baby bump, yet another celebrity is getting the "is she or isn't she" pregnancy rumor treatment. People think Rihanna is pregnant — and it's starting to get really annoying, because these rumors have been flying around as early as May, following Rihanna's stunning appearance at the annual Met Gala in New York City. The rumors resurfaced again later that month following the Cannes Film Festival, when Rihanna slayed the red carpet in several couture — if oversized — dresses by Dior, Adam Selman, and Ralph & Russo.
RiRi's latest fashion stylings do appear to come from the "bigger is better" school of fashion — and amazingly, Rihanna looks incredible in just about every look she's shared on Instagram or been seen wearing via paparazzi. Fans have pointed out that not only has Rihanna been hiding in baggy, oversized outfits, she's also been covering up her midsection with wide belts, strategically placed hands, and oversized bags — which means of course she's pregnant (or so fans' thinking has gone on Twitter). But until Rihanna tells her fandom herself about whether or not she's pregnant, it's really none of our business.
The rumors rose to a whole new level when Rihanna appeared at the London premiere of Valerian in July. Dressed in a gorgeously flow-y empire waist vermillion ballgown by Giambattista Valli, fans were quick to point out that, once again, RiRi was covering up what they think is her big pregnancy secret from the world with the help of many poofy layers of fabric. And don't get me started on the comments on social media about RiRi's boobs — people were all about the 29-year-old Barbadian's cleavage in her low-cut dress.
There are also plenty of fans who seem to think that Rihanna isn't pregnant, but has just gained some weight over the last six months or so. That's the trouble with photos on social media, from the paparazzi, or even professionally styled and shot photographs: Camera angles, lighting, makeup, and clothing can make you look like you've gained or even lost 10 pounds. Even RiRi herself had to address all the comments about her body and weight, posting her humorous take on the Marilyn Monroe "deserve me at my best" meme.
Earlier this month, Rihanna spoke with The Cut about her new fashion partnership with Fenty. When asked about what she would tell girls about dressing for their bodies, Rihanna responded:
Well, I actually have had the pleasure of a fluctuating body type, where one day I can literally fit into something that is bodycon, and then the next day — the next week — I need something oversized; I need a little crop here and a high-waist there to hide that part, you know?
I really pay attention every day when I go into the closet about what's working for my body that morning. I feel like that's how everyone should go after fashion, because it's an individual thing. And then, if you take it further, it's like: What week are you having? You having a skinny week? You having a fat week? Are we doing arms this week? We doing legs this week? We doing oversized?
While not specifically addressing the pregnancy rumors, her interview reads as a subtle STFU to all the fat- and body-shamers out there while serving up some solid fashion advice. But Rihanna shouldn't even have to justify her body type or her fashion choices, and she never even has to grace us with an announcement if she's ever pregnant.
Speculating that Rihanna — or any woman, for that matter — is pregnant is just as much about fat-shaming as it is a total invasion of privacy. No woman deserves that — and yes, I'm including the Kardashian-Jenners, too, even if all these pregnancy rumors are a deliberately crafted stunt for ratings. Not only do fans need a reminder that it's not our place to ask, Rihanna doesn't owe us any kind of explanation, either.
Watch Romper's new video series, Romper's Doula Diaries:
Check out the entire Romper's Doula Diaries series and other videos on Facebook and the Bustle app across Apple TV, Roku, and Amazon Fire TV.