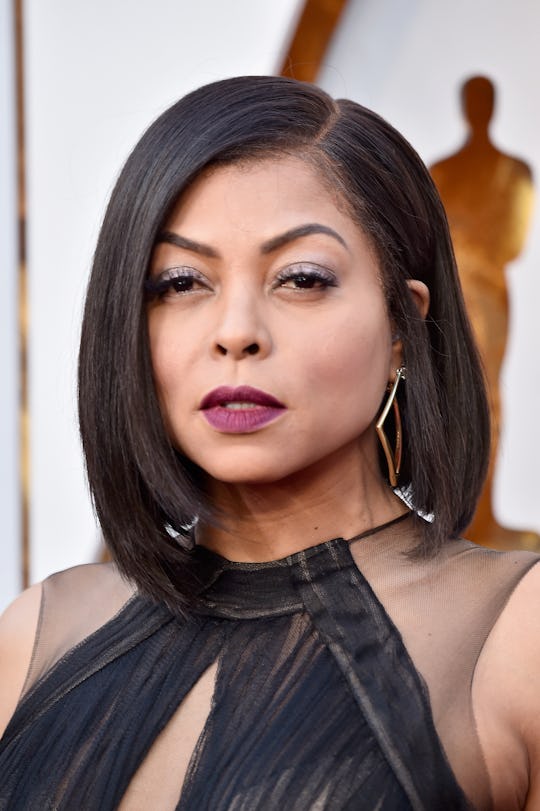 Frazer Harrison/Getty Images Entertainment/Getty Images
People Think Taraji P. Henson Shaded Ryan Seacrest At The Oscars & Twitter Is Losing It
Despite the sexual abuse allegations that have surfaced against Ryan Seacrest recently, he still hosted the E! red carpet pre-show before the 2018 Oscars. Seacrest has denied the allegations and the E! network has stood behind him, but that doesn't mean that all the actors he's interviewing are equally convinced of his innocence. People think Taraji P. Henson shaded Ryan Seacrest at the Oscars and Twitter is losing it.
It was reported that the E! red carpet would be airing the interviews with a 30 second delay in order to get a jump on any uncomfortable questions or comments a star might make. The network was uncomfortably surprised at the Golden Globes when stars like Debra Messing mentioned Catt Sadler, a former E! News host who quit the network after discovering the pay disparity between herself and her male coworker. If the network was running with such a delay, was this moment with Hensen a slip up by the producer in charge of cutting awkward comments? Or was it not actually shady at all? Well, if she did manage to sneak a little drag in there, it was masterfully done. And twitter went absolutely nuts hailing their new Queen of Shade, Taraji P. Hensen. Yes, lady.
In the interview, Hensen said "The universe has a way of taking care of the good people." She then paused with an inscrutable, knowing smile on her face as she looked at Seacrest. "You know what I mean?" The thing is, there is nothing outwardly shady about this sentence. The reason everyone thinks that this was a subtle drag is all in the delivery. It's that smile, that knowing tone of voice, the meaningful eye contact. I've watched this clip about seven times now, and each time I become more convinced that she was being shady, but in the most innocent, queenly way. And obviously Twitter thinks so too.
Seacrest was accused by his former wardrobe stylist Suzie Hardy. Variety obtained a copy of a letter addressed to E from Hardy's attorney that described years of abuse starting when she got the job back in 2007. The allegations are seriously disturbing, though they have not been verified. E! conducted an internal investigation into the matter and it was ruled inconclusive due to lack of evidence. Seacrest has denied the allegations and released a lengthy statement in which he said, "Ultimately, my name was cleared. I eagerly participated in the investigation in order to demonstrate my innocence because I know my truth, and I believe in due process." He also said, "This person who has accused me of horrible things offered, on multiple occasions, to withdraw her claims if I paid her millions of dollars. I refused. I have worked extremely hard to achieve my success and I don't take my opportunities for granted."
In light of the #MeToo and Time's Up movements, however, many actors seemed unsure whether they would still agree to be interviewed by Seacrest in light of the allegations. Jennifer Lawrence, for example, told Howard Stern that she was unsure whether she would be interviewed by him. "I don't know about the Ryan Seacrest thing," she said, adding, "I think it is scary, you know. He has not been to trial for anything. I am not a judge. I am not a jury, you know."
So perhaps Hensen was shading Seacrest, reminding him that everybody get's what's coming to them, more or less. Then again, maybe she was just saying that good people get good things. Nobody really knows but Hensen herself.
Check out Romper's new video series, Romper's Doula Diaries:
Watch full episodes of Romper's Doula Diaries on Facebook Watch.