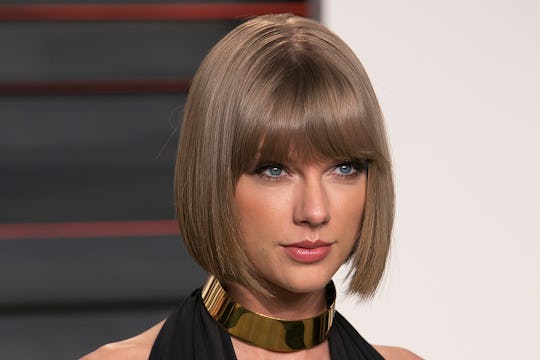 ADRIAN SANCHEZ-GONZALEZ/AFP/Getty Images
People Think Taylor Swift Appropriated Beyonce's 'Formation'
I'll admit it, freely: I am not a Taylor Swift fan. Not when she was country. Not when she went pop. And not now, with whatever incantation of the pop star that "Look What You Made Me Do" represents. Swift's new single dropped Thursday night, along with a 13-second teaser for its music video that'll premiere during MTV's Video Music Awards this Sunday. Let's just say the reception hasn't been warm so far. Why? Because people think Taylor Swift appropriated Beyoncé's "Formation," and they are not having it.
To be fair, the trailer for "Look What You Made Me Do" — the lead single from Swift's new album, Reputation — doesn't show a whole lot. But the teaser does offer enough for people on social media to make comparisons between T-Swift's video and the visuals for "Formation," Beyoncé's powerful single from her stunning 2016 masterpiece, Lemonade.
Need evidence? As Uproxx pointed out, just look at the broken glass, the opulent throne, and how Swift is "squared up in an actual formation" in front of background dancers. The colors, too, are suspiciously similar to the spectrum of hues in "Formation," as well as the actual outfits, which, while not the same in design, give off the same vibe.
The reviews for "Look At What You Made Me Do" are mixed, to say the least. There's the T-Swift camp, of course, that loves it. Then there are those on social media blasting it as imitation. No matter which side of the aisle you fall, it's fair to say that the song is "dark and petty as hell," as Vox described it. The 27-year-old singer comes off, to many, as a scorned, vengeful person who has a list of names she is working through, according to the lyrics. No longer is she the sweet, but mischievous Swift; she is full-on vengeful. According to Rolling Stone, the running theory is that Swift is taking shots at her many public enemies (Kayne West, Kim Kardashian, Katy Perry, etc), even though she, herself, has played a not-so-innocent role in the feuds.
I'm curious if Beyoncé will be added to that list. Whether you like Swift or could do without her, you can't deny that her music video for "Look What You Made Me Do" does look pretty similar to "Formation." (Also, worth noting dancers in the above screenshots are segregated.) The similarities are endless, even within the few clips that she previewed. Not to mention that Swift copied Beyoncé's surprise-music drop by releasing her single late Thursday night.
Swift may have reinvented herself with this single, but many fans don't think this reinvention is entirely original. Still, we haven't seen the rest of the video. It could be completely different, and the similarities fans are seeing between the clip and "Formation" could really just be small similarities. We'll just have to wait and see until the full video premieres during the Video Music Awards on Sunday night.