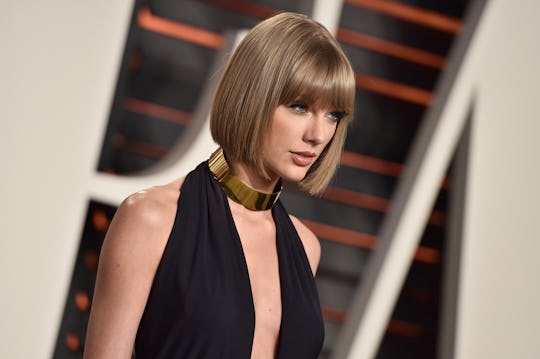 Pascal Le Segretain/Getty Images Entertainment/Getty Images
People Think There's A Hilary Duff Lyric On 'Reputation,' & They're Pretty Pissed
If there's one thing I've learned recently, it's that it wouldn't be a day of the week without a Taylor Swift controversy. This time, though, the scandal has nothing to do with Swift's various beefs; instead, people think there's a Hilary Duff lyric on Reputation, her new album that dropped Friday. Y'all, I'm tired. Just tired.
According to Cosmopolitan, one particular lyric on Swift's new song, "Getaway Car," sounds suspiciously like a line in Duff's 2015 track "Breathe In. Breathe Out," from her album of the same name. On "Getaway Car," Swift muses in the pre-chorus,
X marks the spot where we fell apart.
Now compare that to Duff's lyrics for "Breathe In. Breathe Out." In one verse, Duff sings,
"X" marks the spot where we left our hearts, and / "X" marks the spot where we fell apart, and / "X" marks the spot where we left our hearts.
Coincidence? Some fans of both singers think not. They are accusing Swift of lifting the lyric from Duff's popular song, and using social media to call the country-turned-pop singer out. (It should be noted, though, that similarity between the two lyrics was first pointed out by celebrity gossip site Oh No They Didn't!) Swift's representative did not immediately respond to Romper's request for comment.
According to On No They Didn't!, Swift had told fans back in 2015 that "Breathe In. Breathe Out." was her favorite song from Duff's album. The Reputation singer had revealed her love for the song in a Tumblr post that has since been deleted in, what Oh No They Didn't! dubbed, "the Taylor Swift promotional social media purge" of 2017.
This, of course, isn't the first time Swift had faced controversy for allegedly stealing lyrics. According to Seventeen, the writers behind 3LW's 2000 song "Playas Gon' Play" filed a lawsuit against the 27-year-old entertainer because they claimed she stole the lyrics to her 2014 single "Shake It Off" from their hit. (The line in question is Swift's quintessential line, "Cause the players gonna play, play, play, play, play / And the haters gonna hate, hate, hate, hate, hate.")
At the time, Swift's lawyer told TMZ,
This is a ridiculous claim and nothing more than a money grab. The law is simple and clear. They do not have a case.
So did Swift plagiarize Duff? Honestly, probably not. As a former music journalist and music snob, I can say with the utmost certainty that most pop lyrics are uninspired.
Of course, there are some artists who can write the hell out of a catchy pop song. Listen to Kesha's new album, Rainbow or any of Rihanna's work, and you'll know what I mean. But, in general, pop music — particularly radio-friendly pop music — is formulaic. Lyrics will be recycled by artists over and over again. Pop artists will find inspiration from other pop artists without realizing it. Honestly, there's a certain lack of creativity when it comes to crafting a song that you want and expect to be a Billboard 100 hit. You don't have to think much about the message.
Is that saying Swift didn't put effort into the songs that appear on Reputation? No. But to assume that she would be 100 percent original, or to not reference songs of yore, is to completely ignore the way pop music actually works. "X marks the spot" and "players gonna play" are phrases that appear in other songs over and over again. It's quite possible Swift didn't even know what she was referencing. When something is regurgitated so often in the industry in which you work, it's easy to forget where your references or inspiration comes from.
I can't believe I'm writing this, but... cut Swift some slack.