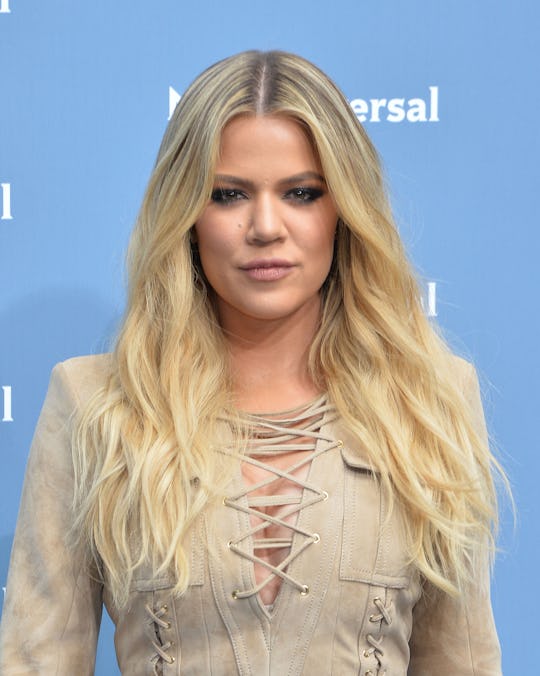 Slaven Vlasic/Getty Images Entertainment/Getty Images
People Think This Is The Ultimate Khloe Kardashian Pregnancy "Clue"
There are always a few, sneaky things to look out for if you suspect that a friend might be expecting. Avoiding alcohol, even in the earliest stages of pregnancy, is often a sign. As such, people seem to think that this scene from a recently-aired episode of Keeping Up with the Kardashians is the ultimate Khloé Kardashian pregnancy clue. Because everyone's favorite reality show BFF abstained from fully indulging in a wine tasting like her sisters did, fans are convinced that it's a subtle nod to Khloé's yet-to-be-confirmed pregnancy rumors. Romper has reached out to Khloe's representation for comment, but has not heard back at this time.
In case you missed it, rumor has it that Khloé, Kylie Jenner, Kim Kardashian's surrogate are all reportedly pregnant. The family has neither outright confirmed or denied the suggestions, so fans are pretty much just waiting for the break the internet photo shoot to end all photoshoots at this point. The 33-year-old reality star is said to be pregnant with NBA star Tristan Thompson's child, according to TMZ. The two have been together for about a year, and fans are spinning all kinds of conspiracies about their potential family.
On Sunday's episode, Kendall Jenner and Kourtney had a day-party in California wine country. Kourtney and Kendall get a bit tipsy, while Khloé takes a more leisurely approach to the afternoon. After 21-year-old Kendall spills a glass, according to People, she has to admit that the alcohol has gotten to her, lamenting: "I've never gotten drunk this quickly off wine!" "You're drunk already?!," Khloé asks her in the clip, highlighting: "You guys are drinking all the glasses. I'm drinking sips."
Sips, you say? Sounds a little suspicious. In a candid interview afterward, Kourtney presses Khloé as to why she was staying sober, and Khloé replied: "I don't know. I'm so not on your level, but I'm willing to take one for the team. You guys are having the best time, and I love watching you guys have so much fun." What's more, when Khloé leaves a glass of red wine unconsumed after the tasting, her little sister's there to down the rest of it for her.
One YouTube commenter posed the question: "Y'all notice that Khloé the one who usually drinks isn't actually drinking here, like she's purposely avoiding to drink- raises question... Was she preggers here?" Another refuted that Khloé "was acting like the Big sister [and] being protective and letting kKurt and Kendall have fun" instead. Then, another viewer of the clip chimed in that "she was drinking," but "she just didn't get tipsy/drunk."
Suffice it to say, jury's still out on this one.
But, seeing that Khloé posted an Instagram photo in May featuring Kendall at the very same vineyard, it appears that the episode was shot about five months ago, which would posit Khloé at the wee stages of her rumored pregnancy — which, as mentioned, still remains unaddressed by Khloé herself. Sources told Us Weekly in September that Khloé was four months into her pregnancy, so the math does, in a way, add up.
This months-old video is some of the most concrete evidence that Khloé's been willing to release about her maybe-baby. Her Instagram account remains free of hints, but she still keeps posting photos of her nieces and nephews as well as her love, 26-year-old Thompson. But it's Kim's most recent Instagram post that shows her, Khloé, and Kourtney in a puzzling formation. The two older sisters stand in front of Khloé, obstructing any potential view of a possible bump whatsoever. Are they covering for Khloé, or does the baby fever have fans reaching a bit too far?
Avoiding alcohol, dodging rumors, and well-crafted poses could point to baby, or it could be that fans just reading too far into something that simply isn't there. The fact of the matter is that Khloé (and Kourtney, Kylie, and Kim) are keeping their mouths (and Instagrams) shut for the time being. The real hint towards a Khloé Thompson-Kardashian baby? Thompson's cryptic tweet. When all of the baby news first hit, Thompson tweeted no words, just some suspicious eye emojis.
Cheers a glass (of water, maybe?) to Khloé and Thompson — it takes a lot to handle constant prying on one's personal life, and they're handling it with style.
Watch Romper's new video series, Romper's Doula Diaries:
Check out the entire Romper's Doula Diaries series and other videos on Facebook and the Bustle app across Apple TV, Roku, and Amazon Fire TV.