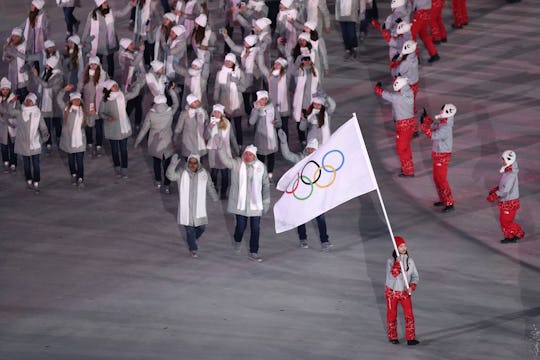 Maddie Meyer/Getty Images Sport/Getty Images
People Think This Moment Was A Subtle Jab At Russia At The Opening Ceremony & You May Have Missed It
While the 2018 Winter Games are all about unity, they're not without rules. And during the Opening Ceremonies, people were convinced a particular moment gave way to a subtle jab at Russia; a country that was banned from the Winter Olympics due to doping violations. It happened quick, though, so you probably missed it. Thankfully, for better or for worse, the internet is forever.
During the Opening Ceremonies, IOC president Thomas Bach said, in front of every single Olympian and, yes, the entire world, "You can only enjoy if you follow the rules and stay clean." While Bach didn't go so far as to name names, viewers were quick to assume the president was speaking about Russia. On Feb. 9, 2018, according to TIME, "appeals by all 45 Russian athletes plus two coaches who were banned from the PyeongChang Olympics over doping concerns in a decision announced Friday less than nine hours before the opening ceremony" were denied. According to CNN, "The IOC banned the entire Russian team from the 2018 Games for a 'systemic manipulation' of anti-doping rules. Russia denies the charge."
The doping allegations, and the finding, is why all 169 Russian athletes competing in PyeongChange are identified as "Olympic Athletes from Russia." It's why they can't wear their country's colors, had to march under a neutral flag during the Parade of Athletes, and why any medals the athletes win will not go towards Russia's overall Olympic medal count. Like Bach said, them's the rules.
The allegations are also, obviously, why the IOC president's comments did not go unnoticed, and why more than a few 2018 Winter Games viewers were convinced Bach was throwing low-key shade Russia's way. Here are just a few tweets highlighting this somewhat awkward Olympic moment.
According to Vox, in Dec. of 2016 the World Anti-Doping Agency, the "premier international watchdog for monitoring athletes' use of illicit substances," found "damning evidence that Russia had used tactics like urine sample swapping to mask its cheating in international sports for years, including at the 2014 Sochi Winter Olympics."
The report did not, initially, lead to a total ban of all Russian Olympians, though. Instead, only individual athletes were told they couldn't compete during the 2018 Winter Games in PyeongChang, South Korea. According to Vox, a few athletes were still eligible to compete "if they could pass a screening process and demonstrate that they hadn't violated doping rules."
Those athletes, who did pass the screening, are the athletes the world watched during the 2018 Winter Games Opening Ceremonies, walking under a neutral flag and sans their country's colors.
Perhaps, as one could probably argue, the IOC president was speaking to those specific Russian Olympians when he made the aforementioned comments. While Twitter seems to think it was a direct shot, and rightfully so, the message was perhaps meant to reach every single athlete, and every single country, in attendance. What happened to Russia could happen to any country, and any athlete, that doesn't "play by the rules," after all. Lest we forget, the United States' once-beloved Lance Armstrong admitted to using performance-enhancing drugs in an interview with Oprah Winfrey in 2013. Those in glass houses, and all that, right?
Still, the moment wasn't lost on Twitter users, and who that moment was, for all intents and purposes, probably meant for. Here are a few more tweets highlight the moment undeniable shade was thrown Russia's way:
The moral of the lesson, kids, is as follows: don't cheat. Yes, you will eventually get caught. Yes, it will be public, and painful, and probably demoralizing. And, yes, you will have to endure some low-key shade from the IOC president during the 2018 Winter Games.
Check out Romper's new video series, Bearing The Motherload, where disagreeing parents from different sides of an issue sit down with a mediator and talk about how to support (and not judge) each other's parenting perspectives. New episodes air Mondays on Facebook.