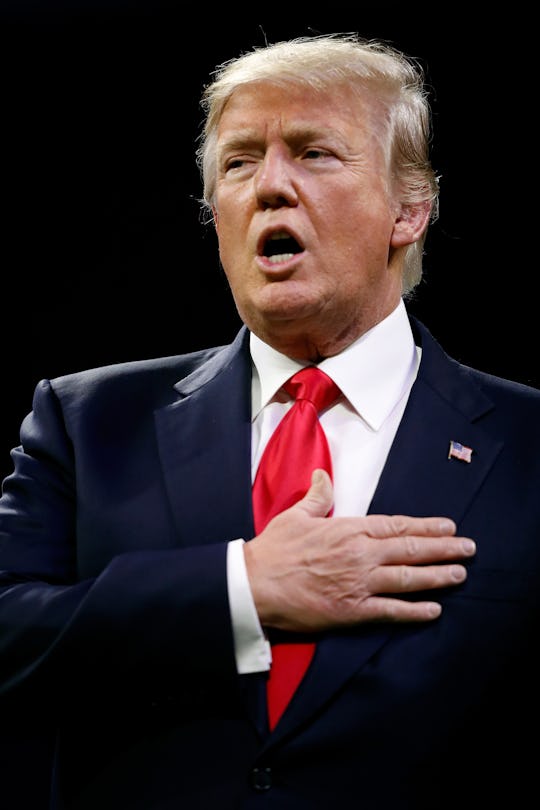 Jamie Squire/Getty Images Sport/Getty Images
People Think Trump Forgot The Words To The National Anthem Because Of This Hilarious Video
Once again, the National Anthem is in the spotlight — only this time, it's not because NFL players are kneeling in protest of racial inequality. It's because President Donald Trump happened to be in attendance on Monday evening's College Football Playoff National Championship in Atlanta. With the Zac Brown Band and a gospel choir leading the anthem — and cameras zoomed in on Trump, who was standing with his hand over his heart — Trump's mouth didn't quite match up to the song's lyrics. Like, at all. In fact, E! Online reported that people think Trump forgot the words to the National Anthem. And Twitter has a lot of feelings about the possibility.
This is a particularly interesting turn of events, considering Trump was quoted regarding the importance of the National Anthem earlier yesterday. "We want our flag respected," Trump said during a speech in Nashville on Monday, according to The Washington Post, "And we want our national anthem respected also." Clearly, the former reality star was referencing the NFL player protests that were the source of much controversy earlier in the football season. For someone who appears to care so deeply about "respecting" the National Anthem, you'd think he'd at least know manage to learn the words. Right?
In the clip, you can see Trump has his mouth open most of the time like he's singing. Except, he's not actually moving his lips. (Or when he does, he's not moving them to form the correct words in the correct rhythm.) As president, it seems like he had two solid options: Actually sing the words, or just stand there respectfully. This confused, in-between performance was a glaring lack of preparation. And Twitter was all over it. "It looked like Donald Trump just kept repeating, "applesauce during the National Anthem," one Twitter user pointed out. Another person tweeted, "Trump was mouthing some words during parts of the national anthem, but it was unclear what he was saying. He didn't open [his] mouth during other parts."
Back in September, the POTUS took to Twitter to express his thoughts on giving our flag and our anthem the "proper" respect. "If a player wants the privilege of making millions of dollars in the NFL,or other leagues, he or she should not be allowed to disrespect our Great American Flag (or Country) and should stand for the National Anthem," Trump wrote. "If not, YOU'RE FIRED. Find something else to do!"
And in a speech made in Huntsville, Alabama, Trump attacked NFL owners and specifically, former San Francisco 49ers quarterback Colin Kaepernick — who started taking a knee in 2016 to protest unjustified killings of black men by police officers, reported The Atlantic. The POTUS said:
Wouldn't you love to see one of these NFL owners, when somebody disrespects our flag to say, "Get that son of a b**** off the field right now, out. He's fired. He's fired!"
And who could forget the political stunt — which was orchestrated by Donald Trump — in which Vice President Mike Pence made a dramatic exit from an NFL football game when players started to kneel during the National Anthem. (Not to mention it ended up costing taxpayers a pretty penny.)
Editor and founder of ThinkProgress summed it up perfectly, tweeting, "IDEA: Before spending 6 months lecturing football players about respecting the national anthem MAYBE LEARN THE WORDS ." (Ouch, burn.)
Still, it's important to keep in mind that Trump isn't the first person ever to forget the words to "The Star Spangled Banner" on national TV. (Remember Christina Aguilera flubbing the words during the Super Bowl in 2011?) And as ThinkProgress pointed out, nearly two-thirds of Americans don't know the words to our National Anthem, according to a 2004 survey by the polling firm Harris Interactive. Unfortunately, it seems like our president is one of them.
Check out Romper's new video series, Romper's Doula Diaries:
Watch full episodes of Romper's Doula Diaries on Facebook Watch.