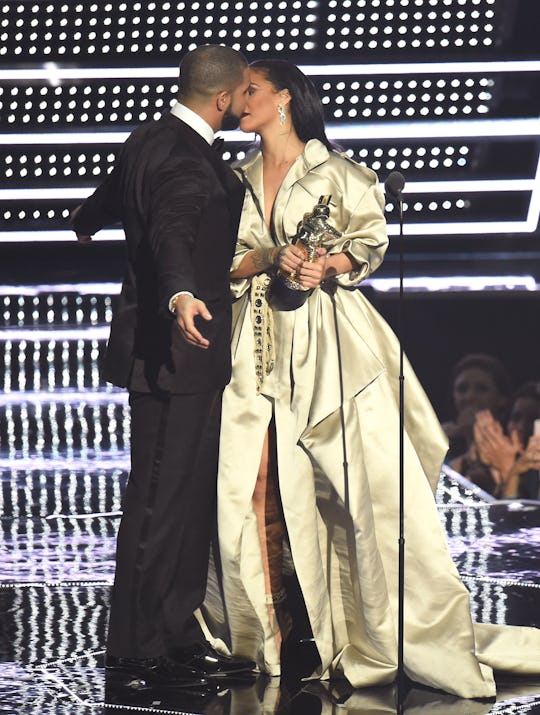 Michael Loccisano/Getty
People Thought Drake Was Going To Propose To Rihanna At The VMAs
At the 2016 VMAs, Drake was the winner of the first award, but unfortunately he seemed to be stuck in traffic, and wasn't actually there to accept it. Fortunately, he did eventually make it, evidently just in time to present his reported girlfriend Rihanna with her Vanguard Award. The chemistry between the two was so adorable and so palpable that people thought Drake was going to propose to Rihanna at the VMAs, because these are two people who go big or go home always.
Introducing Rihanna immediately following her fourth and final killer performance of the night, Drake waltzed on stage looking impossibly dapper in his tuxedo and gave what is possibly the most heartfelt introduction in the history of Vanguard awards speeches. Listening, Rihanna almost looked, dare I say it, bashful. Drake then admitted that he has been in love with Rihanna since he was 22 years old and I swear to God, my heart skipped a beat. I thought, like the rest of the world, This is it. He's gonna propose right here live on stage and there is absolutely no way this lady is going to be able to say no. For a second it looked exactly like history in the making, folks! But in the end, forever friend-zoned Drake did not pop the question, but I was (thankfully) not the only person who thought he might.
Drake and Rihanna have supposedly had an on-again, off-again relationship for years, and as of right now it would appear they are on again. If you didn't even know they were together, just one glance at the way they looked at each other on stage tonight was enough to pretty much confirm that these two are in love. Or at the very least, Drake is in love with Rihanna, while she might be a little hesitant about all the public declarations and whatnot. In fact, her first comment after being presented the award from Drake was that he's a little short and could we please raise this microphone a bit?
It even looked like when he went in for a full-on kiss, she dodged for a more demure peck on the cheek and a hug. I can't feel too bad for Drake though. If Rihanna was trying to hide their relationship, she's not doing a great job. Just the energy surrounding these two lovebirds was enough to make me clap my hands with glee.
All things considered, it's probably best that Drake didn't propose on stage at the VMAs. Even though I love these two together, I'm glad Rihanna's big professional moment wasn't all about her relationship. Let's save that for another big day, and instead honor the artist, the creativity, and the endless hard work that got her to the VMAs stage in the first place.