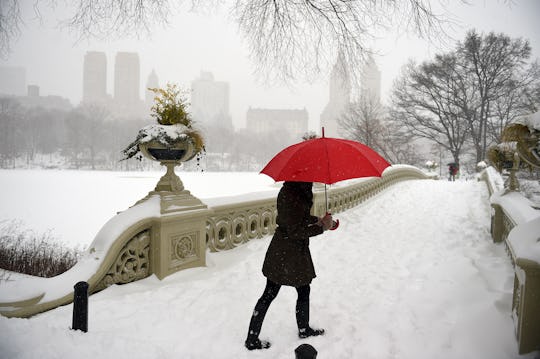 Francois Xavier Marit/Getty Images
People Welcome #JonasBlizzard On Social Media, But It's Not All Warm & Fuzzy
Winter storm Jonas finally arrived Friday night, dropping anywhere from 18-40 inches of snow from Kentucky all the way up to New York. Although a state of emergency has been declared in 11 states, most reactions on Twitter to the blizzard are still pretty good natured. Nothing like being collectively snowed in to get people cracking their best snow jokes, dishing out their favorite blizzard recipes, and announcing their Netflix queues.
It is a serious storm, though. Georgia, Tennessee, Pennsylvania, Maryland, Kentucky, North Carolina, New Jersey, New York, Delaware, Virginia and West Virginia have declared a state of emergency, according to CNN. There were almost 1,000 car accidents due to snow and low visibility, just in Virginia, according to local affiliates. In Kentucky, there's a 35 mile backup on Interstate 75 and people have been stuck in traffic for twelve hours, which is quite possibly the most horrible (and scary!) way to spend a snowy weekend.
People are stranded all over the place and it doesn't look like the snow is going to stop anytime soon. It's expected to start to slow down sometime Sunday morning. If you're not stuck on the highway, or one of millions of customers up and down the East Coast without power, being snowed in can actually be fun. When else do you have an excuse to stay in your pajamas, eat soup all day, and catch up on entire seasons of Pretty Little Liars?
People on social media are all about sharing their snow day secrets.
It's All Fun & Games Until The Power Goes
Eating Their Way Through The Snow
#SnowDay Problems
Some Actually Like Playing In The Snow
It's not really a blizzard until you tweet about it. And whether you're happily snowed in and snuggly or just trying to wait for it to end, at least Twitter's there to help you feel all your feels.
Image: Francois Xavier Marit/Getty Images