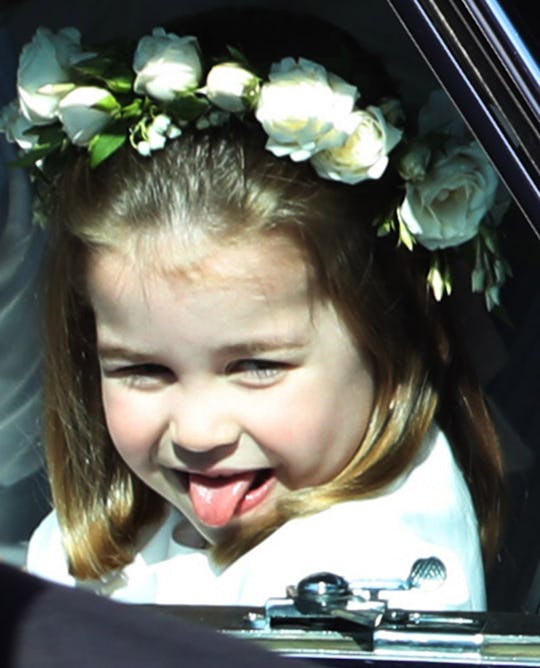 WPA Pool/Getty Images Entertainment/Getty Images
Peppa Pig Reportedly Played A Big Role In The Royal Wedding, & Every Parent Will Understand
OK, so you know how you pre-parenting you were kind of that person who said things like, "I will never bribe my kid" or rolled your eyes at a screaming little one in a restaurant? Yeah, hello to present day you who is rolling her eyes at that naive pre-kids woman. Because if you've ever been smack dab in the middle of anything where you just want your kid to grin and bear it, then you will completely understand why Peppa Pig reportedly played a big role in the royal wedding. Because, hey, we've all kind of been there.
It turns out that even the royals weren't above a bit of bribery to keep their kids quiet during today's ceremony at St. George's Chapel. According to People, the children –– four boys and six girls, all ages 7 and under –– were able to stay mum during the ceremony because their parents promised them candy and their favorite television show once the ceremony was over.
"One little girl was upset, but being comforted by the promise of Peppa Pig and Smarties later," jewelry designer Claudia Bradby told a reporter, according to People magazine.
Because if you think it's pressure to keep your kid quiet at a family event or in the middle of a grocery shopping trip, then you can imagine the pressure of having millions of (perhaps, judge-y) eyes on you.
Of course, it's not unheard of for kids to leave their mark on royal events. Let's not forget 3-year-old Grace van Cutsem — the daughter of Lady Rose Astor and Hugh van Cutsem — who became known as "the grumpy flower girl" for pouting and covering her ears at the Duke and Duchess of Cambridge, Prince William and Kate Middleton's, 2011 wedding. Even Prince George made headlines more recently when paparazzi captured photos of the Duchess scolding him outside of Pippa Middleton's 2017 wedding ceremony.
And Princess Charlotte is no stranger to making her sweet face known amongst the crowd. More recently, she waved at the crowd outside St Mary's Hospital as she arrived with Prince George and Prince William to meet the royal baby. At today's event, she perfected her wave while saying goodbye to Prince Harry and Meghan Markle as they departed from the chapel. Viewers took note, with one tweeting: "The real star of the show... #PrincessCharlotte #SoCute #RoyalWedding."
Some Twitter users even pointed out that Charlotte sticking out her tongue at photographers as she arrived at the chapel was just her taking a page from her uncle's notebook. "Honoring her Uncle on his wedding day #RoyalWedding #PrincessCharlotte #PrinceHarry," @virtuexmoir17 tweeted.
And they aren't wrong –– Prince Harry is definitely known for his goofy side. Town & Country even pointed to a photo of the prince sticking out his tongue at photographers while getting out of a car to at the hospital after his cousin, Princess Beatrice of York, was born in 1988.
So, suffice it to say, that, while the parents were armed with candy, screen time bribes, and who-knows-what-else, Meghan and Harry probably would have shrugged off the kids antics (and maybe even had a good chuckle as a result) had they occurred. As Bradby noted in her interview: "Meghan looked over at [the kids] and smiled. It all felt very normal and very natural — not like a formal state occasion in any way. It was amazing."
Which is really the vibe of this whole wedding, right? Time and time again, the commentary seems to be centered on the breeziness of Prince Harry and Markle.
Perhaps, they're taking cues from the little ones in their lives, am I right?