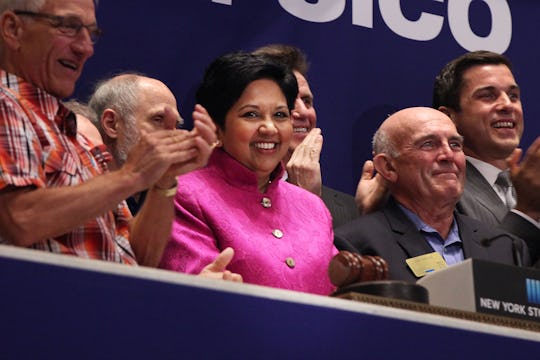 Spencer Platt/Getty Images News/Getty Images
Pepsi CEO Indra Nooyi Says Colleagues Still Call Her 'Sweetie' & That Has To Change
After heading up one of the world's largest consumer product companies for nearly a decade, you'd think office-wide respect and equality would be a given. Not for this leading lady — Pepsi CEO Indra Nooyi says her colleagues still call her "sweetie" and "honey." The cola giant CEO discussed the challenges she's faced as a female in charge at Tina Brown's Women in the World Summit last week, where she also remarked that the toughest hurdle for her to overcome was not being treated equally by her male colleagues.
Nooyi, 60, who originally hails from Chennai, India, has consistently ranked among the Forbes list of The World's 100 Most Powerful Women for her successful career at PepsiCo. Unfortunately, it seems that successful leadership doesn't necessarily equate to equal treatment for women in the workplace. (And yes, it's 2016.)
"We still have to have equal treatment. I hate being called sweetie or honey at times which I still am called," Nooyi said at last week's summit. "All that has got to go. We have got to be treated as executives or people rather than honey, sweetie, or babe. That has to change." Nooyi explained that women have been in "revolution mode" for "many many years", working towards to an invite into the "boy's club" and equal pay.
"We clawed our way into the revolution in this workplace," Nooyi said. "Then we needed parity in pay, not yet there. We are still fighting for that."
As women have "clawed" their way into the workplace and worked hard towards degrees and leadership positions, male counterparts had to "take note of us", she noted. She was careful, however, to point out that no matter how hard women have worked in their careers, many female workers don't help other women in the workplace as much as they should.
"There is a bigger issue we have to talk about," Nooyi expressed, asking women to make sisterhood in the workplace stronger."I don't believe women help women enough in the workplace. Let's figure out how we can help each other way more than we are today."
More importantly, Nooyi said she wanted to figure out the perfect work and home life balance so women can be productive members of the workforce while being able to maintain their personal lives. Nooyi commented on the importance of extending maternity and paternity leave as well, explaining,
Let's say we go to 52 weeks. At the end of 52 weeks an infant is still a year old. What are we supposed to do? Leave the baby at home alone and go to work? It doesn't work.
"I think we ought to lobby Washington like like hell," Nooyi added, saying that the country needed to accommodate working mothers through daycare centers, tax breaks, and paid family leave.
If all those things weren't enough of a challenge for women in the workplace, International Monetary Fund managing director Christine Lagarde said that women also have to be unreasonably tough and have "skin as thick as an old crocodile" to get to the top in such a high-powered male-dominated world today.
Nooyi definitely has thick enough skin to have made it to where she is today, but more important than that, she's advocating that women with big ideas get an equal shot and the same respect as their male counterparts. Hopefully the rest of society follows suit and approaches the issues as progressively as she does — with any luck, Nooyi's vision of a fair workplace might just come to fruition.