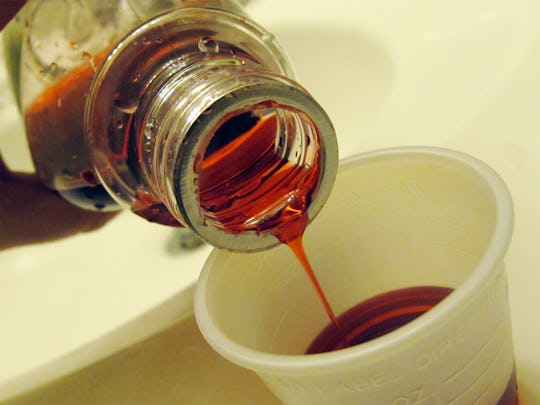 Perrigo Children's Cold Medicine Recalled For 9 Retailers — Here's What You Need To Know
When your child gets sick, it's frightening enough. Now that scenario is even more horrifying because of a large-scale recall of Perrigo Company children's cold medicine in nine retailers. The affected cough syrup was produced by Perrigo Company Medicine, but sold nationally under a variety of brand names and at a number of stores, which means parents have to be extra diligent about figuring out if the cough syrups in their medicine cabinets are affected by the recall, according to ABC News. Fortunately, there have been no reported incidents related to the problematic cough syrup.
On Monday, Perrigo followed up with a voluntary recall of its own. Joseph C. Papa, chairman and CEO of the Ireland-based company, said in a press release:
There have been no reports of adverse events to Perrigo as a result of the incorrect dosage markings. Perrigo is taking this action to maintain the highest possible product quality standards for our retail customers and consumers. We are taking this action because it is the right thing to do.
Romper's request for additional comment from the manufacturer has not yet been returned.
Nine retailers, including CVS, Rite Aid, and Kroger, first announced they were recalling the cough medicine because the dose cups have incorrect markings, according to ABC. That meant people could be inadvertently offering their children too much. Overdosing on cough syrup has serious side-effects ranging from hyperactivity to death, according to the U.S. National Library of Medicine.
The affected children's cough syrup includes 4 oz. bottles of grape and cherry varieties sold under store brand names. The bottles are identifiable by the lot numbers, which all start with 5LK0, according to PIX 11 News. Perrigo said they are "notifying its distributors and customers by verbal and e-mail communication, followed by formal FedEx-delivered communication," but parents should be proactive by checking the cough medicines they already own. The company has set up a new website, MucusReliefRecall.com, where people can plug in the lot numbers on their bottles of cough syrup to see if they are affected by the recall.
In addition to CVS, Kroger, and Rite Aid, the other retailers and brand names that have been selling the affected cough syrup include H.E.B., Sunmark, Topcare, GoodSense, Dollar General and Care One, according to WCVB Boston.
The good news is that the dosing error was caught before any overdoses were reported. Perrigo advises parents contact their healthcare providers if they have any questions related to problems potentially caused by the product.
Photo: Flickr/Anita Hart