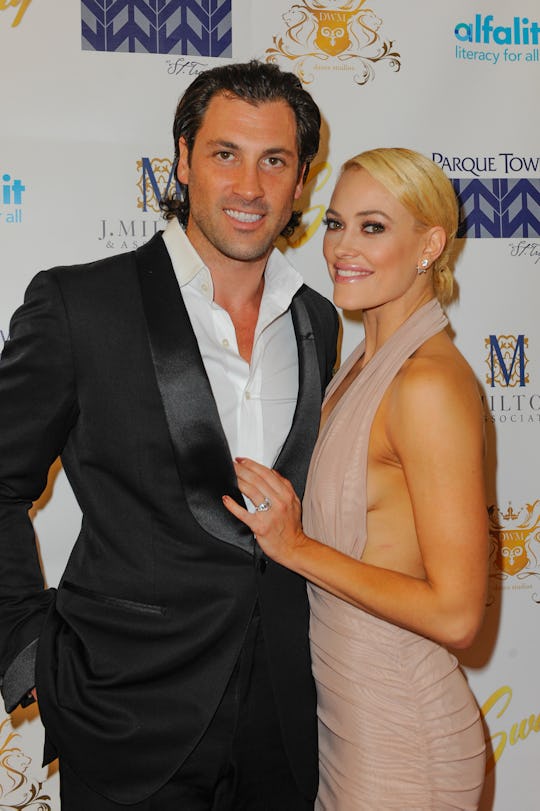 Sergi Alexander/Getty Images Entertainment/Getty Images
Peta Murgatroyd & Maksim Chmerkovskiy Are Expecting Their First Child & They Can't Wait
Looks like DWTS stands for more than just Dancing With The Stars — it might be more accurate to say it could stand for "Diapers" With The Stars for Peta Murgatroyd and Maksim Chmerkovskiy, who are expecting their first child together. The DWTS pair just got engaged last December, and now it looks like they'll be planning a nursery in addition to their wedding. It's been a whirlwind 24 hours for the dancing couple, as Murgatroyd is the winner of DWTS season 22, along with her partner, and former America's Next Top Model contestant, Nyle DiMarco. Murgatroyd and DiMarco took home the mirror ball trophy and the big win on Monday night's finale of DWTS.
Chmerkovskiy, 36 years old, made headlines in December when he dropped down on one knee to propose to Murgatroyd, 29 years old, at a live event onstage in Miami. The pair have had an on-again, off-again relationship since 2012. Speaking to People Magazine in December about their complicated relationship journey, Chmerkovskiy said, "I think it's awesome we have a massive history. It'll make a great story to tell our kids one day." From this latest news about Murgatroyd's pregnancy, it looks like he'll be getting to tell that story soon!
The couple has not yet revealed a due date — or even a wedding date, for that matter. In the same interview with People Magazine, Murgatroyd said she wanted to "bask in this engagement bliss for a little bit" but quickly followed up by saying that she's ready for kids, too: "But I would like to start [having kids] pretty soon. A little boy, and then a little girl." (Chmerkovskiy, meanwhile, would like to see that gender birth order reversed.)
Chmerkovskiy seems to be perfectly comfortable around little kids, especially in this adorable Instagram from March holding up "L'il Avi" the "smallest employee of @dancewithmeusa Southlake!" he said in the caption. Some commenters even joked that Avi looked like he could pass as Chmerkovskiy's own son. In February, Murgatroyd told Us Weekly that she has "always seen [Chmerkovskiy] as being a great father and a great husband."
Neither Murgatroyd nor Chmerkovskiy have yet spoken publicly about their exciting news — but that's probably because they're off celebrating Murgatroyd's spectacular victory on DWTS season 22, especially after having to take a year off from the DWTS dance floor due a devastating ankle injury that required surgery. Chmerkovskiy's brother Val also competed in season 22, coming in third this season, partnered with Good Morning America meteorologist Ginger Zee.
Between their forthcoming wedding, Murgatroyd's DWTS victory, and the news that soon they'll be hearing the pitter patter of some tiny twinkle toes, the couple must be absolutely over the moon.