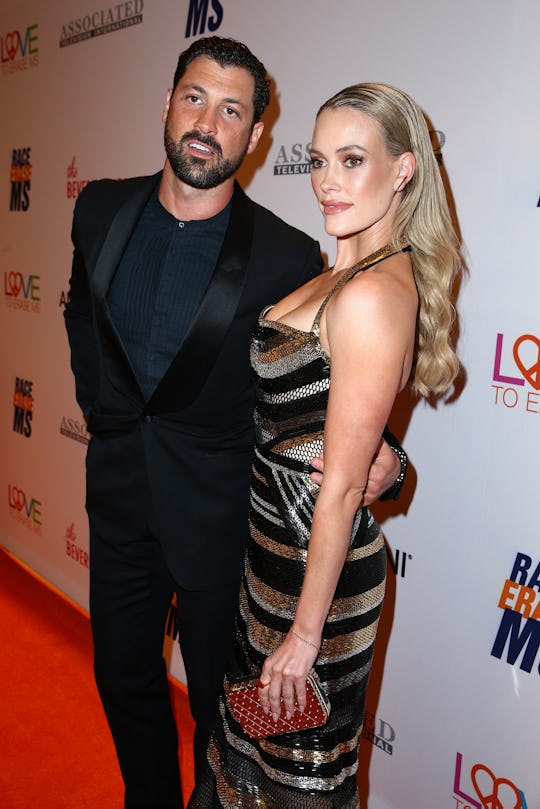 Rich Fury/Getty Images Entertainment/Getty Images
Peta Murgatroyd Proves It's Possible To Keep A Marriage Steamy With A Toddler
Adjusting to life with a new baby isn't always a smooth transition, and the changes just keep on coming. So many new parents can probably relate to the struggle of trying to give your energy to your child and keep your relationship afloat, but just because it's hard doesn't mean it's impossible. Peta Murgatroyd proves it's possible to keep a marriage steamy even with a toddler, in a brand new interview in which she opened up about her personal life.
"With a toddler, you have to carve out time for your husband. I will say that has been something that I've needed to work on, because he has told me at times, 'I don't feel like you're giving me all of you right now,'" Murgatroyd told Health. "It is such a touchy subject, and I know many couples go through this. When I wake up, my mind is immediately on Shai when it used to be immediately on him. So I definitely had to put myself in his position. Any alone time means the world to us, where we can grab lunch and then maybe see a movie."
In January of 2017, Us Weekly reported that Murgatroyd gave birth to a baby boy with Maks Chmerkovskiy. "We can confirm that Peta and Maks have had their baby boy, Shai Aleksander Chmerkovskiy, born on Wednesday, January 4th at 5:34 a.m.," a rep for the couple told the magazine. "This is, without a doubt, the best thing that has ever happened to us!'"
In the same interview, Murgatroyd opened up more about her relationship prior to becoming a mom, talking about her first date with her former Dancing With the Stars co-star, and how casually it all began. After asking him for some advice regarding the show, he asked: "Do you want to talk about it over dinner?" she said. The two then went to a restaurant called Little Door in L.A. Murgatroyd describes the first date as follows:
I sat there, and I was like, 'Oh, that's what's happening. We had a little chemistry going, and were kind of flirting, but I didn't know it was like that! So that was kind of our first date. I think we kissed in the car before I left to go back to my apartment. He was a gentleman. He was not at all trying to get me into bed or anything like that. He walked me to my door. He was great.
Previously, Murgatroyd had opened up to Fit Pregnancy about how though her son was a surprise, having him was "a life-changing experience." She said: "Maks and I were so careful, but one night we weren't. Days later I had this massive hot flash and I thought, 'I better take a test.' So I did... I called Maks, who was in Vegas, and said, 'Well, I'm pregnant.' He thought I was kidding. When I told him I wasn't, he said, 'Wow, that's good, babe' in kind of a monotone. It was really weird! He added, 'I'm in a car full of people. I love you so much. I'll call you back.' He did a few minutes later and he was absolutely thrilled and came straight home to celebrate."
Now, as Murgatroyd and Chmerkovskiy adjust to their new life as a party of three, Murgatroyd says they couldn't be happier. "To me, she's the best at everything motherly," E! reported Chmerkovskiy said of Murgatroyd. "I thought I'd be tough, and she'd be kind of goofy, and it's completely not that. So, it goes to show, you don't know when those motherly instincts will kick in and what you become as a person. She's amazing!" Amazing indeed, and as the new mom returns to the show that made her famous, she's looking forward to balancing every aspect of her new life.