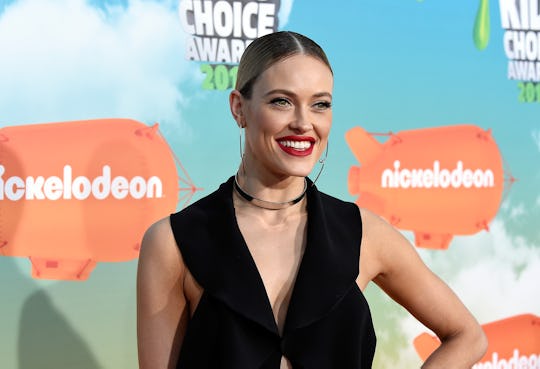 Frazer Harrison/Getty Images Entertainment/Getty Images
Peta Murgatroyd Gets Real About Breast Milk Leaks
Dancing with the Stars professional dancer Peta Murgatroyd gave birth in January to her first child, Shai Aleksander Chmerkovskiy. She's already said that her son's birth was "the best thing that has ever happened" to her, but it looks like recently, Murgatoyd has discovered one aspect of parenting that's not quite her favorite thing. Peta Murgatroyd shared a photo of leaking breast milk on Instagram on Tuesday, and she captioned the shot, "Oh the joys of motherhood ... Leaking boobies are so NOT hot right now."
The message instantly resonated with moms on social media, who shared their own stories of breast milk leakage or chimed in with advice (wearing black helps, apparently). The post seemed to spark a conversation amongst the moms responding to the picture as well, with many swapping breast pad brand names and sharing tips.
Murgatroyd ended her post with the hashtag #mustremembermyboobpads, and other women added their own hashtags, too, from #keepingitreal to #reallifethough. Keeping it real has been pretty much a constant for Murgatroyd ever since she gave birth to Shai on Jan. 4, however, and the dancing star has given fans the kind of behind-the-scenes peek that many celebrities wouldn't post on Instagram.
After coming home from the hospital, Murgatroyd posted a picture of her postpartum body on Instagram, writing:
Real life: I took this photo 8 days post birth. I left the hospital looking 5 months pregnant. Many people think a woman should shrink right back to her pre-birth weight immediately. That is just not the truth for most. The female body is incredible and resilient, but healing and strengthening take time. Now it's time for patience and hard work. Lots of love to all the new mamas out there on the journey.
She did the same 17 days after giving birth, delving into the challenges she was facing as she headed back to the gym. And on her blog, All Things Fam and Glam, Murgatoyd got honest about the changes she went through during her pregnancy. "Your sex life will change and that's OK. Your relationship will change and that's OK," she wrote in January. On top of that, "You don't know frustration until you're all alone and can't bend over far enough to put on socks. Ugh."
But the entire experience — from sock challenges to leaking breasts — has taught her one thing. "Mothers are amazing," she wrote on All Things Fam and Glam. "You're strong and brave and I'm excited to be counted among you."
It looks like Murgatoyd isn't going to be shying away from the more challenging parts of motherhood and parenting as Shai grows up — and her fans love her all the more for it. Keep on keeping it real, Murgatoyd.