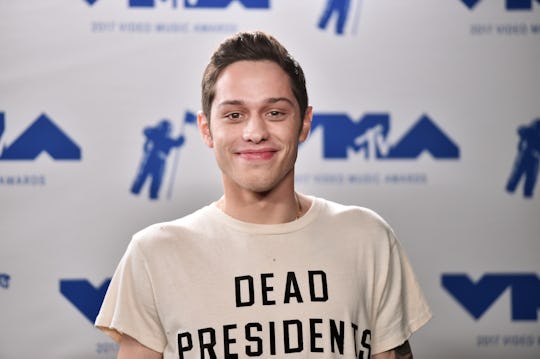 Alberto E. Rodriguez/Getty Images Entertainment/Getty Images
Pete Davidson Confirmed His Engagement To Ariana Grande In The Most Hilarious Way
It's official: my new favorite celeb couple is tying the knot. In a recent TV appearance, Pete Davidson confirmed his engagement to Ariana Grande and made it clear that he is head-over-heels for her. The two have reportedly only been dating for a little over a month, so calling theirs a whirlwind romance is a bit of an understatement.
Fans of Davidson and Grande were treated to numerous declarations of love via social media before Davidson appeared on The Tonight Show and told Jimmy Fallon that the two are indeed engaged, as People reported, with the comedian saying "I feel like I won a contest, so sick. It's f*cking lit, Jimmy. It's so lit." Seriously, how sweet is that?
Davidson went on to tell the host that the public has had an interesting response to his impending nuptials. "Dudes are walking by, and they're like [tipping their hats to me]," he said. "You ever see that Derek Jeter commercial, where he was, like, retiring and everybody just tips his hat? Some dude came up to me and was like 'Yo, man, you gave me hope." He added, "I'm like, I didn't know I was that ugly!" before singing his fiancée's praises once again. "I'm a lucky motherf*cker."
If you've been following their story at all, you may have noticed that Davidson and Grande are moving a bit quickly. It was just last month that the two shared the news that they had ended things with their previous significant others. Grande released a statement via Instagram on May 10, according to Cosmopolitan, where she explained her split from longtime boyfriend Mac Miller, posting a photo of the two of them and writing:
Hi! This is one of my best friends in the whole world and favourite people on the planet Malcolm McCormick. I respect and adore him endlessly and am grateful to have him in my life in any form, at all times regardless of how our relationship changes or what the universe holds for each of us! I can't wait to know and support you forever and I'm so proud of you!!
On May 16, Davidson released a breakup statement of his own, according to Cosmo, sharing that he and girlfriend Cazzie David had called it quits, but it was far from a mean message, with him calling David a "very talented girl."
By May 20, People reported that Davidson and Grande were cuddling up at the Billboard Music Awards, with a source telling the outlet:
After Ariana's performance, they were backstage and he had his arm around her. They seemed very lovey-dovey. He was hanging out with her and her friends with his arm around her. She seemed quite smitten.
Fans were treated to an Instagram post from Davidson a few days later of the couple looking absolutely adorable in Harry Potter cloaks and Davidson wearing a cap that says "I love you."
Jump ahead a couple of weeks and reports are coming in that the two are engaged after Davidson posted a photo of their hands with a seriously massive ring on Grande's finger. If you're wondering about that ring, by the way, Yahoo reported that it set Davidson back $93,000 when he bought it from a jeweler in Manhattan back in May. It would seem that he was planning to pop the question from the very beginning.
Details of the proposal and any wedding plans have yet to be released, but there is plenty to celebrate in the mean time. From the looks of it, the pair couldn't be happier. Congrats to the happy couple!