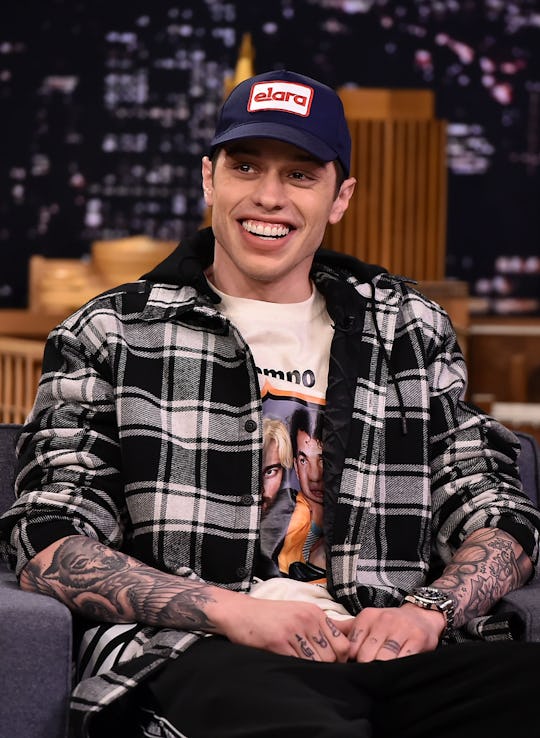 Theo Wargo/Getty Images Entertainment/Getty Images
Pete Davidson Was Ready To Marry Ariana Grande The Same Day They Met
It turns out Ariana Grande and Pete Davidson's relationship escalated even quicker than previously thought. In a new interview, the Saturday Night Live star discussed about his newfound ultra-fame, his relationship with Grande, and how it's all affected his life. Most interestingly, Pete Davidson said he sent Ariana Grande engagement ring ideas on the very day they met.
Davidson, 24, opened up about meeting Grande, 25, in a profile for GQ that was published on Thursday. "The day I met her, I was like, 'Hey, I'll marry you tomorrow,' " he told GQ. "She was calling my bluff. I sent her a picture [of engagement rings]. I was like, 'Do you like any of these?' She was like, 'Those are my favorite ones,' and I was like, 'Sick.'"
Reports that Grande and Davidson were dating first broke on May 21, Us Weekly reported at the time. Then, whisperings of an engagement began just three weeks later, on June 11, according to Glamour. On June 21, Davidson confirmed the engagement in an appearance on The Tonight Show Starring Jimmy Fallon, Billboard reported.
It's unclear what exact day Davidson is referring to, but his quote makes it clear that their relationship really did move just as fast as it looked like — and that he's very happy about it.
In the article, Davidson also opened up about being thrust into the spotlight after several years of being someone who paparazzi didn't really care about. He told GQ that it feels "mortifying" to be the subject of a photoshoot and interview. "It's all bulls—t. GQ wouldn't hit me up if I didn't recently get engaged to a super-famous person," he said. "Nobody gives a shit, you know what I mean?"
Davidson also shared some details about the $16 million apartment Grande recently bought for them in Manhattan. The two are using the space to learn "how to be adults together," and he joked that "we have six beanbags, but we have no forks," adding:
She's really sweet. She's like, "This is our house," and I'm like, "You're very nice for saying that. Thank you for letting me stay here." ... She's like, "We're getting married!" And I'm like, "I know, thank you for letting me stay here."
The young couple has remained pretty coy about the details of their relationship; instead of formally announcing their romantic milestones, they prefer to post adorable comments on each other's Instagram photos. But, as mentioned above, one of the first times Davidson publicly acknowledged the engagement was on The Tonight Show back in June.
"I feel like I won a contest. So sick. It's f—ing lit, Jimmy," Davidson told host Jimmy Fallon. "It's so lit, it's so funny walking down the street, because dudes are walking by and they're like—" (Davidson demonstrated a hat tip). "Some dude came up to me, he was like, 'yo man, you like, gave me hope.' I'm like, I didn't know I was that ugly! I'm a lucky motherf—er."
And even though Grande has not talked about her bae in any interviews, she has tweeted about him (and his shoutouts on her album Sweetener, which drops tonight, Thursday Aug. 16) on multiple occasions. In mid-June, a follower called Grande "dumb" for naming a track on the album after Davidson. She responded "nah," to which another fan asked, "you really don't give a f—k do you." Grande replied:
forreal. the truth is ☕️ i been the f—k thru it and life's too short to be cryptic n shit about something as beautiful as this love I'm in. so ǝʇǝԀ it is.
Davidson told GQ that he and Grande don't have any wedding plans yet, but that a wedding is "definitely going to happen, for sure." Here's hoping the haters can back off long enough to convince the couple to livestream what is sure to be an epic wedding.