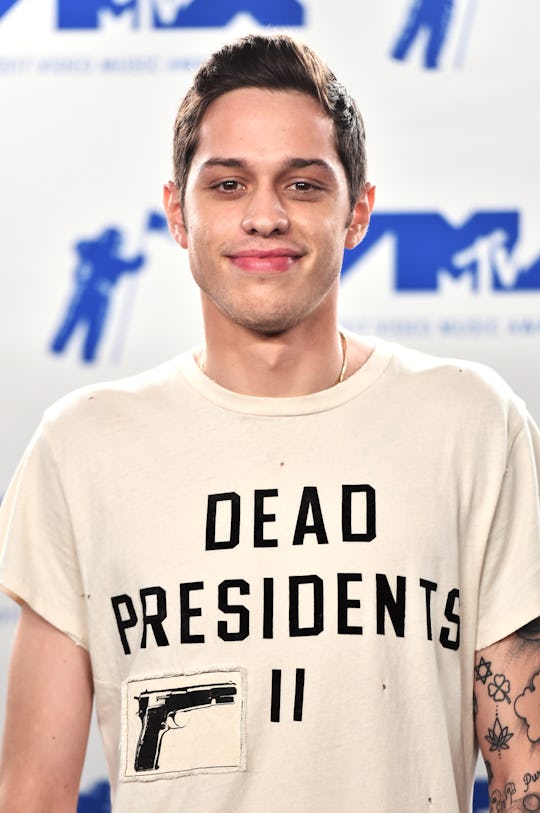 Alberto E. Rodriguez/Getty Images Entertainment/Getty Images
Pete Davidson's Tattoos Shed Some Light On His Whirlwind Relationship With Ariana Grande
The reality of getting something permanently inked on their body usually leads people to give plenty of advanced thought to the subject matter of their tattoos, but it sounds like Saturday Night Live comedian Pete Davidson prefers to take a much more spontaneous approach. The 24-year-old has admitted in the past to being a big fan of getting inked— in October 2016, according to Complex, he told Seth Meyers that he'd added so many tattoos since he'd last appeared on his show, he had sleeves on both arms. Yet Pete Davidson's tattoos definitely don't seem random: in addition to the new tats he recently acquired as a tribute to his rumored-fiancée, Ariana Grande, his body art seems to be a way of commemorating the people and things that mean the most to him.
Although Davidson already had some tattoos during an earlier appearance on Late Night with Seth Meyers in 2015, when he returned to the show the following year, he had a lot more ink to show off. When asked about his decision, Davidson's explanation was pretty straightforward: he simply replied, "I don't know, I really like them. They're cool." And though he also admitted that he already had some regrets about certain designs, it definitely didn't seem to stop him from adding more. Even though he may only be a few weeks into his relationship with Grande, Davidson now sports a small tattoo of the singer's Dangerous Woman black bunny mask, according to People, and also appears to have her initials written on his thumb.
Although the tattoos clearly seem to be Davidson's way of publicly declaring his love for Grande, it does seem like a pretty bold move — I mean, getting someone else's initials on your body is kind of risky no matter how long you've been together. But while it sounds like Davidson and Grande feel pretty certain that their relationship is absolutely the real deal, the reality is that, even if they were to split, it wouldn't be the first time he'd have a bit of a change of heart about his ink:
He Might Already Regret His Harry Potter Tattoos
Editor's Note: The Instagram post has since been deleted.
One thing the world has learned from the brief Davidson-Grande union? They're big fans of Harry Potter. In fact, it was through an HP-themed photo that the couple appeared to become "Instagram official." In the pic, posted to Davidson's account, the two appeared in full Hogwarts attire, along with the caption, "the chamber of secrets is open." But Davidson's love for the series isn't just limited to his outfit: during his interview with Meyers, he shared that he actually had Harry Potter tattoos on his inner arm.
Granted, there are many fans out there with tattoos inspired by the books and films, but from the sounds of it, Davidson didn't take his own tats all that seriously. He showed them off, telling Meyers that he had "a bunch of Harry Potter crap," and said that, although it seemed like a good idea at the time, it occurred to him that it's possible they could later take on a less-than-ideal meaning. He joked, "what if one of the people in the cast is like, a sex offender later on? There's a huge cast. So if someone comes out as a sex offender, I'm screwed."
He Also Has A Hillary Clinton Tattoo (And She Approves!)
Editor's Note: The Instagram post has since been deleted.
If he wasn't exactly sold on his "Harry Potter crap," it might seem reasonable to think he would maybe want to take a break from adding any additional bold, statement-making tats. But, nope: according to Vulture, back in December, Davidson got a tattoo of '90s-era Hillary Clinton, after deciding that he "wanted to get [her] a Christmas gift." In an Instagram post Davidson called the former Democratic presidential nominee his "hero," and thanked her for being "such a badass and one of the strongest people in the universe."
Perhaps the best part of this story though? Although Davidson's post inspired tons of hate and snarky comments, Clinton herself actually responded, and it was the greatest. She wrote,
Thanks, @petedavidson. This makes it significantly less awkward that I've had a Pete Davidson tattoo for years. But seriously, I'm honored. Merry Christmas my friend.
Ariana Grande Isn't Actually His First Tattoo-Inspiring Relationship
Editor's Note: The Instagram post has since been deleted.
Although Davidson's relationship with Grande might now be what he's best known for, prior to dating her, he was actually in a two-year relationship with actress and writer Cazzie David (who is also the daughter of Seinfeld creator Larry David). Davidson publicly confirmed their split in May, but in earlier interviews, the SNL star credited her support to helping him get sober from drugs and alcohol for the first time in eight years, according to People.
Davidson has moved on from that breakup, but despite the fact that he and Grande are already reported to be engaged, there was still one rather unfortunate reminder of his previous relationship: according to Us Weekly, Davidson had a tattoo of David's face on his right forearm. His solution? The magazine claims he recently covered up that tattoo with "a larger version of a design that looks close to one he sports on his left side."
But There's At Least One He'll Always Cherish
Editor's Note: The Instagram post has since been deleted.
Although getting tattoos of your romantic partners is a seriously brave move, Davidson showed Seth Meyers one tattoo that he probably won't ever regret: on one of his arms, Davidson has a tattoo of a helmet in tribute to his late father, Scott Davidson, who was a firefighter who died in 9/11, according to People. In May, Davidson posted a photo of him with his dad from when he was a child, and wrote that he was "the bestest friend [he] ever had."
Although Davidson clearly isn't afraid to jump right in and get inked with designs that would probably make a lot of other people pretty nervous, it seems that tattoos are a way for him to commemorate what's most important to him. And honestly, it doesn't exactly seem that he's that broken up about it when he has second thoughts, or decides to cover them up. So although getting tattoos of your girlfriend after three weeks of dating might seem extreme, hey, it works for him. And honestly, it is a pretty romantic gesture, especially since he and Grande seem to be so happy and in love.