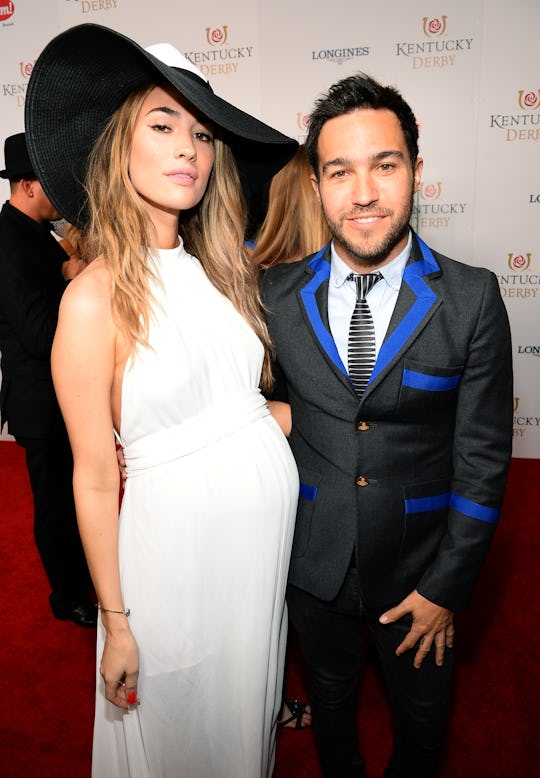 Theo Wargo/Getty Images Entertainment/Getty Images
Pete Wentz & Meagan Camper Are Expecting A Baby Girl, & Their Announcement Is So Cute
Fall Out Boy bassist Pete Wentz has definitely settled into the dad life outside of his rock 'n' roll lifestyle. Now, Wentz and his longtime girlfriend, Meagan Camper, are expecting their second child. It's actually Wentz's third child, however; he shares one kid with ex-wife Ashlee Simpson Ross. Wentz and Camper are expecting a girl this time, and she'll be the first daughter for either of them, according to People.
Yes, the couple are currently expecting their second child together, if you want to get technical, according to Billboard. Wentz's co-parents his older child with Simpson Ross, and both he and his younger brother were featured in the Instagram post Wentz used to announce the latest family news.
The rocker announced the news to his social media followers on New Year's Day, according to People. He posted a photo of his sons — Bronx Mowgli, who is 9, and Saint Lazslo, 3 — looking happy as they sat on some steps together, according to Entertainment Tonight. In the photo, Saint held up a wrapped pink box, which "signifies the gift of their new baby sister," Billboard reported.
Wentz captioned the Instagram photo, "Happy New Year! We're kicking the year off with news of the best gift yet: 👧🏻 coming to our family in 2018... love Pete, Meagan, Bronx and Saint." That emoji is another indication that the baby on the way is a little girl.
The new addition will be Saint's only sister, at least so far. But Bronx has a half-sister, since Simpson Ross and her husband, Evan Ross, share a daughter together, according to Us Weekly. Bronx's sister, Jagger Snow Ross, recently celebrated her second birthday with Bronx in attendance, according to Entertainment Tonight.
It sounds like adding a new baby to the mix shouldn't affect Wentz's rock 'n' roll lifestyle too much. He told People in 2015:
There are cribs backstage now; they're Pack 'n Plays, actually...My family's pretty nomadic. We're able to move around, and that's the only life that my kids have grown up with, so I think it's somewhat normal. It's pretty fun. There's nothing like a bus to put a kid to sleep: It's really dark, and the engine's really loud.
And in that same interview, Wentz made it clear that he and Camper, his ex-wife Simpson Ross, and her husband Evan seem to have this blended family thing down. He said, according to People:
Putting the kids first is the most important thing. You've got to think of the kids and loving and caring for them. That's definitely the most important thing first.
Which is a really great attitude for anyone who is dealing with ex-partners and the children they share together. As long as the kids are healthy and happy, you're doing something right.
And it seems like Bronx and Saint are definitely happy kids. Wentz regularly shares photos of videos of his kids on social media, much to the delight of Fall Out Boy fans.
In one photo Wentz shared to Instagram in June, he appeared on some sort of pier or deck with his older son, Bronx. Comments in the replies from fans included everything from "Dad goals" to "HES SO BIG WTF????" to "King of being a dad 💖👍👑" and more. People were clearly pleased that Wentz was willing to share that moment with his son with his fans, and it definitely made for a very sweet photo.
Hopefully, after Wentz and Camper welcome their newest addition, they'll be willing to share some photos of the baby for fans to enjoy as well. Since Fall Out Boy is still going strong, it's not like Wentz can exactly disappear from the public eye, but when the time comes, it'll be totally up to the parents just how much of their little girl they want to share with the world.
Check out Romper's new video series, Romper's Doula Diaries:
Watch full episodes of Romper's Doula Diaries on Facebook Watch.