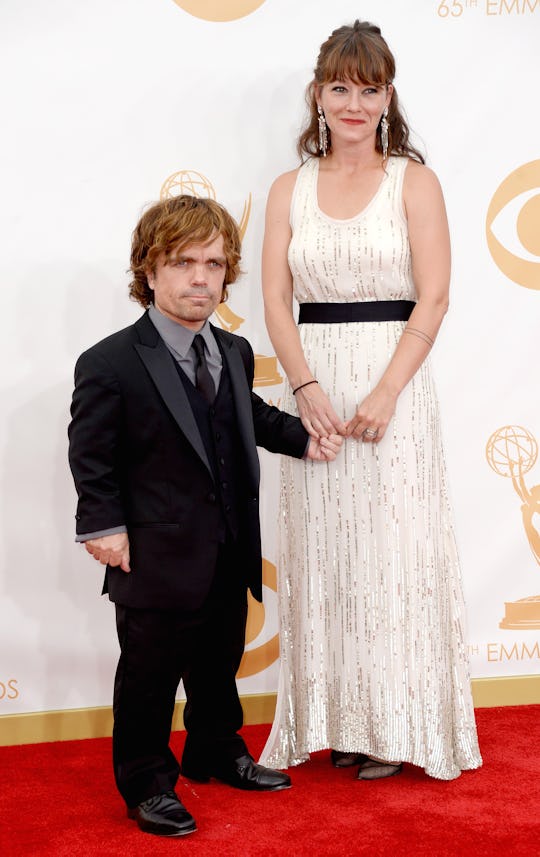 Frazer Harrison/Getty Images Entertainment/Getty Images
Peter Dinklage & Erica Schmidt Welcome Their 2nd Child
In this day and age, it is almost impossible to believe that anyone can keep anything a secret, especially when it is something as big as a pregnancy. But, Peter Dinklage and his wife, Erica Schmidt are a perfect example of this. After it was announced that Schmidt was expecting a child in the spring, not much else was heard from the couple, until now. On Friday, Us Weekly reported that Peter Dinklage and Erica Schmidt allegedly welcomed their second child together and the news could not be any more exciting — but there is still a lot that is unknown.
What exactly is unknown? Basically, everything — including when Schmidt gave birth. According to Us Weekly, Schmidt and Dinklage were spotted with their newborn baby at a concert in September. That's it. A representative for Dinklage has not yet responded to Romper's request for comment.
It was first reported that Schmidt and Dinklage were expecting their second child in March, according to People, when Schmidt walked the red carpet of the off-Broadway play, All The Fine Boys, that she wrote and directed. During the appearance, her pregnancy bump was undisguised and the shows stars took photos with their hands on her bump on the red carpet. But the low key couple has kept a very low profile in the seven months since then.
They could be one of the quietest celebrity couples in Hollywood. Dinklage and Schmidt are already parents to a 5-year-old daughter. But they are so secretive about their lives that nobody knows her real name or the exact date of her birth, other than the fact that she was born in 2011. Throughout the years, Schmidt and Dinklage have been spotted with their young daughter in New York City but fail to say much else about her. For a while, people were convinced that their daughter's name was Zelig, until Dinklage was forced to dispel the rumors in an interview with the Guardian in 2015. Dinklage told the Guardian:
Let me tell you right now: her name is not Zelig. But it's hilarious that that's a fact in Wikipedia.
In the same interview, Dinklage cited his need to protect his family as the reason behind his secrecy with his private life. "I am so protective of everything society has to offer," Dinklage said. "I like privacy and all this [press] is not my thing."
Dinklage was even scared to leave his daughter alone with a babysitter for the first time at the 2012 Golden Globes. And although he received his first Golden Globe award that night, all he could think about was his daughter, according to People. Sounds like like a true dad who wants to keep his family out of the spotlight (and who can blame him?).
While it might seem impossible nowadays to keep anything private and away from the cameras, Dinklage is proud to do so. Dinklage told the Guardian:
It's hard when you have your kid with you and you feel everyone is spying and not really living in the moment. Nothing is private any more, especially with the younger generation. I feel like they are recording everything they're doing and sending it to their friends. They're writing on Facebook everything they had for breakfast this morning.
This philosophy proves just how long Dinklage and Schmidt were able to keep quiet while they were expecting their second child — and shows that they probably will continue to remain out of the spotlight with their new baby now that it is here. As awesome as it would be to see a photo or know the baby's name, it is important to respect the family's privacy during this time.
Congratulations to the parents!