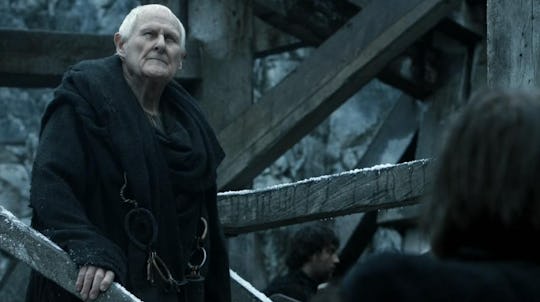 HBO
Peter Vaughan Of 'Game of Thrones' Dies, & There's No Doubt He'll Be Missed
Though he was perhaps best known for playing Maester Aemon on Game of Thrones, Peter Vaughan was an actor with an incredibly long career that spanned decades, with roles in both film and television. His name may not have been the most familiar but his face was certainly recognizable thanks to the numerous parts he took on during his sixty years as an actor. And today, at age ninety-three, Peter Vaughan of Game of Thrones died. There's no doubt he'll be missed.
Vaughan's death was announced by agent Sally Long-Innes, whose statement read, "This is to confirm that very sadly Peter Vaughan passed away at approximately 1o:30 this morning. He died peacefully with his family around him." Vaughan was survived by his wife Lillias Walker.
He played Maester Aemon on Game of Thrones until 2015; it was his final onscreen part, and it was definitely a memorable one. Maester Aemon was one of the last living Targaryens and a guiding force to both Jon Snow and Sam Tarly at Castle Black. But that was merely the most recent of Vaughan's projects. A look through his filmography reveals any number of half-forgotten wonderful roles that he portrayed since his career began in 1954.
But playing Maester Aemon was as memorable for Vaughan as it was for the audience. In an interview with the Sunday Post from June 2016, Vaughan spoke of all the fan mail he received and how much he enjoyed being part of a massive show as Game of Thrones. "It's been an absolute privilege to have worked on it for the past five years at my time of life because it's absolutely first-class," he said. "It's just grown and grown and once you're hooked, that's it."
But Maester Aemon wasn't Vaughan's only well-known role. He was also much-beloved in the U.K. for his role as Grouty in the sitcom Porridge, not to mention all of his smaller TV appearances and parts in countless films. Personally, I'll always remember him best as the indefatigable Giles Corey in 1996's The Crucible. Vaughan had shared the screen with tons of incredible actors, co-starring alongside Frank Sinatra, Meryl Streep, Anthony Hopkins, and many others.
Vaughan's formers co-workers and acquaintances have been remembering him on social media in the wake of the news, remarking upon his kindness, humor, and talent. There's no doubt that he left an impact both on those that truly knew him and those that knew his work.