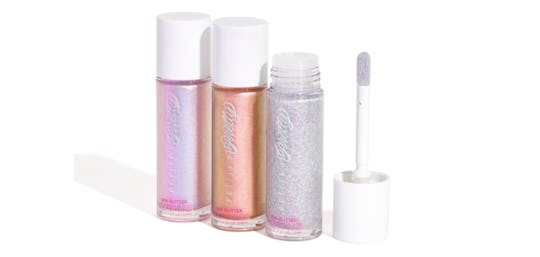 Petite 'n Pretty
This New Glitter-Happy Makeup Line Is Made For Kids & Up, & You'll Want In, Too
The youngest aspiring beauty gurus no longer have to pillage Mom's makeup drawer for supplies. A new prestige makeup brand for kids, Petite 'n Pretty is designed for the young creatives who can't wait to experiment with glitter and shine. And chances are, more than a few adults will fall in love with these makeup offerings, too, because sparkly stuff is just fun.
With prices ranging from $16 to $34, the debut Petite 'n Pretty line includes three products. There is the 10k Shine Lip Gloss, the sheer 9021-Glow! Eye and Cheek Palette, and Gen Glitter, an iridescent hair and body glitter. The products were designed to give tweens, pre-teens, and teenagers a quality introduction to creative cosmetics. "I've always been make-up obsessed, and from a young age, utilized beauty products to express my individuality and creativity," said Petite 'n Pretty Founder, Samantha Cutler. "Petite 'n Pretty is creating a new essential category of beauty that encourages self-exploration and inclusivity. I'm thrilled to debut a brand with products that will spark the imagination of the influencers of tomorrow and encourage them to lead the sparkle revolution." It looks like the line focused on covering up anything, because it's all about shine and sparkle. I can definitely see tweens and teens playing around with the eyeshadows and highlighters and glitters and having a blast.
Makeup for kids is nothing new, but the Petite 'n Pretty line has some unique features that adults will also appreciate. For starters, Petite 'n Pretty products are nut-free and cruelty-free, as well as pediatrician, ophthalmologist, and dermatologist approved. This is important because a lot of makeup marketed to kids is potentially dangerous, as noted in Glamour. Play makeup isn't strictly regulated, and contaminants such as asbestos fibers were found in a shimmer powder marketed to tweens, as further explained in Glamour. If your kiddos want to dabble around in glitter and color, then you can provide them with safe and quality products from this brand.
It's also worth mentioning that the brand's website does emphasize inclusivity as well. As noted beneath its "Pretty Is For Everyone" slogan, the website emphasizes its products are for persons of all genders, shapes, and colors. That's very cool.
That said, the line does bring up some questions about the role of cosmetics in the lives of youngsters. Questioning the "right" age let kids play with makeup has probably concerned parents since the very first bullet lipsticks were sold. Like most things parenting-related, it's a personal judgement call. Maybe you want your kid to wait a few years before experimenting with makeup. Or maybe your young teen is already obsessed with the beauty guru world, and you're happy to provide them with safe, quality products for experimentation. Or maybe you just don't feel like dealing with your entire bathroom counter getting covered in glitter. It's up to you.
And if you snap up that hair and body glitter for yourself, well, that's fine too. Live out your inner '90s kid fantasy with sparkles everywhere, from the top of your head to your toes.