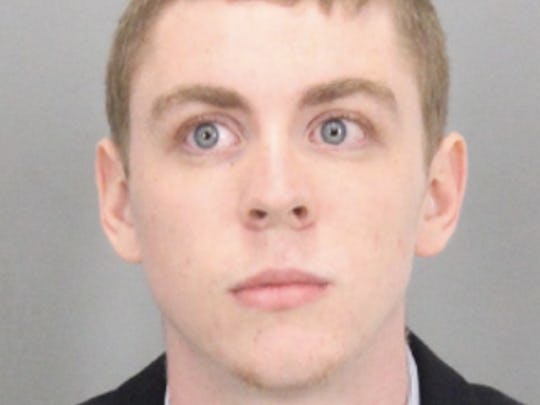 Santa Clara County Office of the Sheriff
Petitions To Remove Judge Aaron Persky Over The Stanford Rape Case Won't Solve The Problem
The Superior Court Judge of Santa Clara County sentenced the former Stanford student Brock Turner to six months in jail after being found guilty of sexual assault in January 2015. His 23-year-old victim was intoxicated and unconscious at the time of the crime. Turner's lenient sentence has garnered widespread media attention and motivated petitions to remove Judge Aaron Persky over the Stanford rape case.
Critics have accused Persky of being far too lenient on the convicted criminal. According to Reuters, Persky was a fellow alumni of the elite university and did not want the conviction to have "a severe impact" on Turner. The petition for his recall that has gained the most traction was penned on Change.org by Maria Ruiz, a nurse in Miami, Florida. It demands Persky's removal from his position of legal authority. Since Monday it's has gained more than 300,000 signatures. In Ruiz's introduction for the petition, she wrote:
Appearance of bias toward a particular class: Pensky [sic] sentenced fellow alumni and athlete Of Stanford university to an unusually lenient sentence of 6 months for a unanimously guilty verdict on three counts of sexual assault. Despite Mr Turner showing no remorse and despite being caught in the act. Inappropriate comments on the bench: "a prison sentence would have a severe impact on him(Brock Turner)" in relation to why this convicted rapist would serve such a short sentence.
Her post also includes a phone number to reach Persky's clerk and instructions for filing complaints with California's Commission on Judicial Performance. Despite the petition's support, the Santa Clara County District Attorney, Jeff Rosen, said in a statement that he did not think the judge should be removed. He said:
While I strongly disagree with the sentence that Judge Persky issued in the Brock Turner case, I do not believe he should be removed from his judgeship. I am so pleased that the victim's powerful and true statements about the devastation of campus sexual assault are being heard across our nation. She has given voice to thousands of sexual assault survivors.
Ruiz's is not the only petition gaining traction. A number of them have popped up seeking justice and support for the victim. The Justice for Stanford Rape Victim petition calls for a review of the case and the sentence. It's received more than 10,000 signatures. There's also a petition to give Turner the maximum sentence, which would mean he would face 14 years in prison. Rather than seeking to change this case's outcome, the In Support of the Survivor petition seeks to provide counseling resources for victims of sexual assault at Stanford. It has more than 10,000 signatures.
Part of this case's fascination, other than its controversial sentence, is its primary documents. The anonymous victim read a six-page letter addressing Turner directly in court. Following Persky's deliberation, a number of media outlets published that letter in full. The copy published on BuzzFeed has gotten more than 8 million views. The letter is compelling, candid, painful, lyrical, and horrible. At one point, she wrote, "You took away my worth, my privacy, my energy, my time, my safety, my intimacy, my confidence, my own voice, until today. My independence, natural joy, gentleness, and steady lifestyle I had been enjoying became distorted beyond recognition." Not only has the letter been viewed and shared millions of times, but its been cited as a call for victims of sexual assault everywhere to know that they are not alone.
In very stark contrast to that letter is the one released by Dan Turner, Brock Turner's father. It was filed to the court before the sentencing in an effort to get a reduced punishment. While Turner's pain for his son is understandable, its sincerity reads as tone-deaf. He wrote that his son was going through "true remorse" for the "20 minutes of action" that will alter the course of his life and already has begun to change him. "Brock always enjoyed certain types of food and is a very good cook himself," wrote Turner. "Now he barely consumes any food." The letter's citing of Brock Turner's loss of appetite for steak — in comparison with what his victim when through — is easy to mock, and social media users have not held back.
The question now is if this outrage can be translated to action. The way in which we prosecute sexual assault cases is clearly ineffective, but where do we go from here? Removing Persky sends a message, but it will hardly solve the problem.