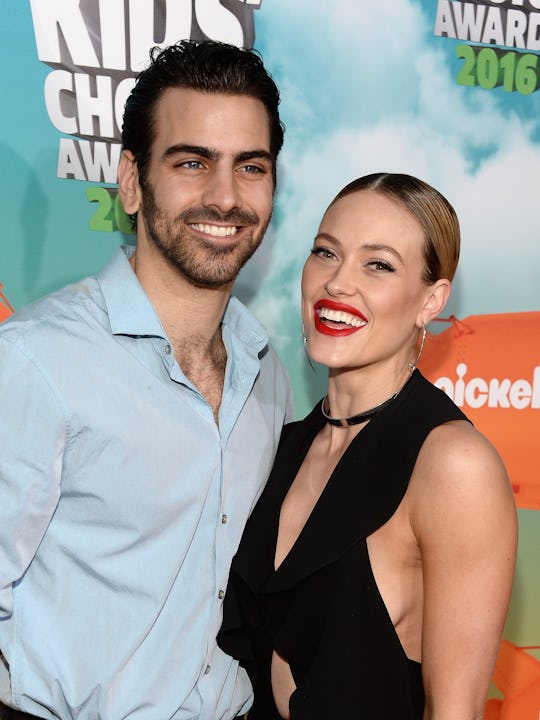 Frazer Harrison/Getty Images Entertainment/Getty Images
Petra Murgatroyd Shares Post-Baby Belly Pic
New mom Petra Murgatroyd might be a Dancing With The Stars pro (with the amazingly toned body to prove it), but that doesn't mean she's immune to the normal process of post-pregnancy healing. Although it might seem like celeb moms magically "bounce back" right away following the birth of their babies, Petra Murgatroyd shared a post-baby belly pic on Instagram to remind her followers that pregnancy bumps don't magically disappear once the baby comes out — and that there's absolutely nothing wrong with that.
According to Us Weekly, Murgatroyd shared the bathroom-mirror photo on Sunday, showing the reality of her new-mom body after she and fiancé Maksim Chmerkovskiy welcomed their son, Shai, into the world on Jan. 4. In the photo, Murgatroyd is standing in a bra and black leggings, looking as though she could still be pregnant (a reality any woman who has given birth knows all too well). In the caption, she emphasized that healing from childbirth doesn't happen overnight, and that expecting a woman to look exactly like she did before she got pregnant is unrealistic. Murgatroyd wrote,
Real life: I took this photo 8 days post birth. I left the hospital looking 5 months pregnant. Many people think a woman should shrink right back to her pre-birth weight immediately. That is just not the truth for most. The female body is incredible and resilient, but healing and strengthening take time. Now it's time for patience and hard work. Lots of love to all the new mamas out there on the journey.
Murgatroyd hasn't been shy about documenting her pregnancy on social media, sharing shots of her growing belly, her pregnancy workouts, and photos from her baby shower. Another constant in her Instagram feed? Intimate photos capturing loving moments with Chmerkovskiy, as the two parents-to-be were waiting for their son to arrive. In one adorable snap, which she captioned, "Early morning snuggles ☺️☺️☺️ just the 3 of us," Murgatroyd and Chmerkovskiy can be seen snuggling together with his hand on her belly. And in another, Murgatroyd shared a photo of Chmerkovskiy talking to her naked belly as the two of them were bed — a post she captioned, "The baby whisperer."
One thing though that the couple hasn't sharing just yet? Photos of their son. Although the proud new mom recently shared a photo of Shai's beautiful nursery with her social media followers, she explained that she and Chmerkovskiy weren't quite ready to show their baby to the world. According to People, Murgatroyd wrote that, although they were planning on sharing photos of him eventually, "for the first most crucial weeks of his life we're just keeping him for ourselves and soaking up these moments."
Chmerkovskiy also addressed the lack of baby photos in a post on his own Instagram account, and explained to his followers that, although being a dad has made him the "happiest person that's ever lived," it's also made him feel reluctant to share photos of their son with the world. He wrote,
I'm also feeling very protective and now understand what every parent in history have been going through for as long as humans have been giving birth. I don't let too many people come see my son and I don't want to put any of him on social media just yet. @petamurgatroyd and I just want to enjoy our little family, together with our loved ones, and take in all the precious moments which we'll never get back.
Even though it's always fun when celeb parents are happy to share photos of their little ones on social media, it's also totally understandable why they — or any parent, really — would prefer not to. And, in the meantime, the posts that they are sharing are super heartfelt and important, especially Murgatroyd's honest take on pregnancy recovery.
Being pregnant in itself is already a pretty judgmental experience (eat this, don't eat that, don't gain too much weight, but don't gain too little, etc.), but the expectation that women are somehow supposed to "get their bodies back" as soon as possible after birth isn't just unfair, it's straight up physically impossible. The fact is that, most women do totally look pregnant for a while after they give birth, and there's nothing weird or embarrassing about that at all. And even though no one should have to defend that, or even point it out, the fact that Murgatroyd used her platform to remind women that however they happen to look is totally fine.