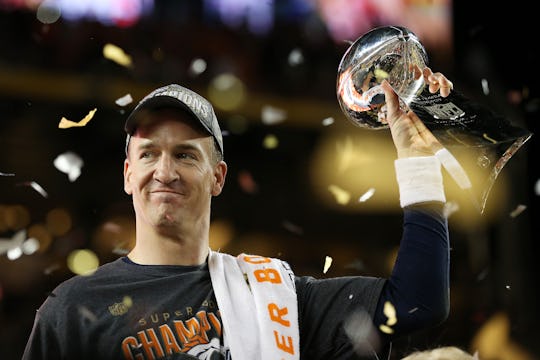 Patrick Smith/Getty
Peyton Manning Dropped a Budweiser Reference Twice — He's Either Really Thirsty or Sponsored
Denver Broncos quarterback Peyton Manning managed to avoid the topic of his possible retirement on live television after his team won the Super Bowl 50. He obviously had more important things to talk about: Like how Manning dropped a Budweiser reference twice, which made fans wonder if he was trying to milk some last sponsorship dollars before that rumored retirement. The social media frenzy that took place after he mentioned the beer's name a couple of times likely resulted in much more media presence than any money Budweiser could spend on ads.
Not that Budweiser spent any money on Manning, either. Apparently, according to Variety editor Brian Steinberg, a Budweiser rep said Manning wasn't paid to mention the beer, and that the brand was "surprised and delighted" that he did. Maybe he wasn't paid. Maybe he's sweetening Budweiser for up a post-career endorsement situation. Maybe he just really, really likes Budweiser.
Whatever the situation was, I'm not judging. If someone paid me to say a word "Budweiser" a couple of times, I can't say I wouldn't. Budweiser, whenever you're ready, let me know.
Whatever may or may not have happened between Manning and Budweiser, Twitter decided to have some fun with it:
That's all from me, folks. I'm off to drink some Budweiser. Ahem.