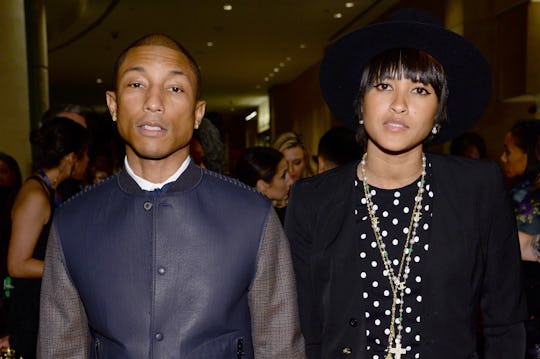 Larry Busacca/Getty Images Entertainment/Getty Images
It's Triplets For Pharrell & Wife Helen Lasichanh!
Want a new reason to be happy? What about being happy, happy happy? Well, Pharrell Williams sure has one — or rather, three. The singer and hat icon has officially welcomed three new babies into the world with his wife, Helen Lasichanh. According to Vanity Fair, Williams and Lasichanh welcomed the triplets earlier this month, and the family of six are happy at home.
Lasichanh gave birth to the couple's first child, son Rocket, back in 2008, and have stayed relatively quiet about this latest pregnancy for the most part. The couple, who wed in 2013, aren't as active on social media platforms as other celeb couples, and although Pharrell does regularly post on his Instagram, it's very rarely private or family photos. So, really, this new update on the Williams-Lasichanh family coming a few weeks after the fact isn't exactly surprising. And we can't really blame them.
The amount of paparazzi that ascend on celebrities who are just trying to live their own lives is a bit unsettling. And as other celeb couples and parents have gone on to state, their private lives are just that, their private lives. Of course we can respect their wishes and also be excited to note how cute it is the growing family really is, while not overstepping our bounds, right?
As of yet, no word has been given on the sexes or names of the new babies, so it seems we'll just be left to our imaginations for the time being. Although, if we really think about it, the fact that Williams and Lasichanh previously named their only other child Rocket seems to point to the notion that the two would choose equally creative names for the new babies as well. Of course, whatever names the couple chooses to bestow on their little ones will be perfect (because, come on, look at them).
Obviously, we're all stressed that our political system is going to hell, and our government can't seem to rescue it, but, alas, there is hope. With each new child that is brought into the world, new possibilities become more and more imminent. And as for Williams and Lasichanh, we're sure their new young ones are a constant source of love and hope, to be sure.
With those genes, Williams' hat game, and an older brother named Rocket, we're sure that these precious new babes will have everything they need to be happy (x3).