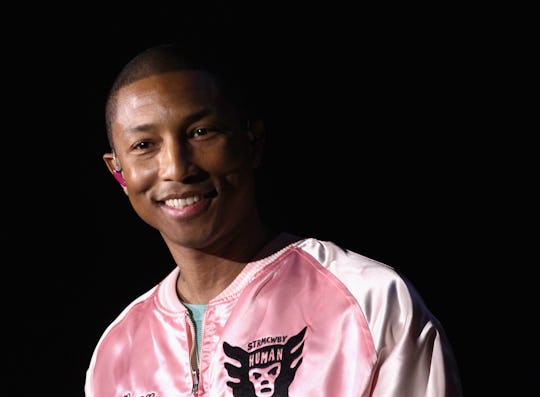 Tommaso Boddi/Getty Images Entertainment/Getty Images
Pharrell Williams Discusses His Triplets For The First Time
It's been a big month for twin birth announcements in Hollywood — both Amal and George Clooney and Beyoncé and JAY-Z welcomed sets of infants after incredibly high-profile pregnancies, and there's no doubt that they've probably got their hands full right now. But when it comes to raising multiples, Pharrell Williams can probably teach them a thing or two. According to People, Williams and his wife, Helen Lasichanh, actually welcomed three babies in January, and unsurprisingly, it sounds pretty hectic. In an appearance on The Tonight Show Starring Jimmy Fallon Monday, Pharrell Williams said life with triplets is a "full-on assembly line," and admitted that being a dad to three infants is "no joke."
In the funny interview, The 44-year-old music producer spoke about his triplets for the first time publicly since their birth. And though the couple still has yet to reveal any details from the birth (including the babies' names or genders), Williams gave Fallon an entertaining glimpse into what his daily life is like as a triplet dad by jokingly acting out his "assembly line" duties — picking up the babies, changing their diapers, giving them a bottle, burping them — before finally sitting down again in mock exhaustion.
Another aspect of triplet parenthood that seems particularly tough? Williams revealed that, when you've got three babies, all it takes is one of them getting upset to start a full-fledged crying meltdown. He said,
No, it's no joke. They harmonize when they cry ... it's real. And chain reaction is a real thing in our house. It's a real thing. One cries, two cries, three cries.
But even though caring for three babies at once must be total madness, Williams also acknowledged that it's also pretty incredible. And he made sure to give his wife a special shoutout during the interview that seemed more than well-deserved (after all, if carrying one baby often feels challenging, carrying three pretty much makes her a superhero, right?). Williams said,
I have to say, man, my wife, carrying those babies. All of them are fine and healthy. I cannot say enough about women, and all kinds of burdens that they carry — and the gifts that they carry. My wife is everything. She's the best.
What's even more impressive though? As if they weren't already busy enough raising triplets, Williams and Lasichanh also have a 4-year-old son named Rocket, according to Entertainment Tonight. And even though Williams technically stopped by The Tonight Show to discuss his work — he composed the soundtrack to the recently-released movie, Despicable Me 3 — the proud papa made sure to take the time to publicly gush about his son as well as the triplets. Just as Fallon seemed poised to change the subject to ask about the producer's latest project, Williams interrupted and said,
And wait, I have to just — dad being dad. Because I'm superdad. Rocket is into architecture now, so we're excited about that. He spends so much time on Minecraft, it's like, we're worried.
And although Williams admitted that he didn't quite understand the buzz around Minecraft, he told Fallon that his son "builds the most amazing little houses on there," and that he's already got quite the eye for design.
As crazy as Williams' life as a dad to four kids sounds, it seems pretty clear that he's got some serious skills when it comes to parenting, and that he is super proud of his young family. Although it looks like he and Lasichanh prefer to keep their children out of the spotlight, Williams still seems more than happy to gush about them whenever he gets a chance.
There's no question that Williams' successful music career must also keep him really busy, but from the sounds of it, his wife and kids are his biggest priority.