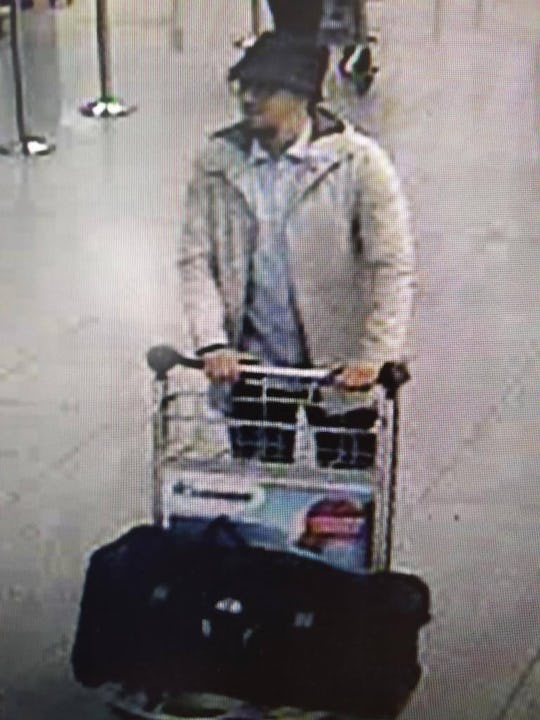 Handout/Getty Images News/Getty Images
Photo Of Alleged Brussels Bombers Surfaces Following Deadly Attacks
Following a set of deadly explosions in the Belgian capital of Brussels, a photo of the alleged bombers began making the rounds on Belgian media. The explosions, which left at least 34 dead and another 170 people injured made headlines once again on Tuesday morning when the authorities speaking to various news outlets, including the Associated Press, declared that the attack bore similar markers to the tragic Paris attacks in November last year. By early Tuesday evening local time, the Islamic State itself had claimed responsibility for the Brussels attacks, according to Egyptian media, adding further complication to the already harried atmosphere.
A grainy security footage image from inside the Brussels Airport, which was circulated by Belgian media on Tuesday, seemed to show three men pushing luggage carts past a ticket counter. One of the men in the photo is seen wearing a bucket hat and a white jacket, while the other two are dressed in similar dark-colored sweaters and khaki pants. NPR noted that two of the men in the photo were wearing single gloves, perhaps to hide explosives detonators.
According to air travel news site AirLive and French-Belgian news outlet RTBF, the two alleged attackers wearing the black sweaters died on Tuesday, and the man in the white jacket was last reported as being on the run.
"Two of them probably carried out suicide attacks," said Belgian prosecutor Frederic Van Leeuw in a statement on Tuesday. "A third one, dressed in a light jacket and hat, is actively being searched for."
According to Reuters, Belgian police immediately issued a cropped version of the photo, which was zoomed in on the man with the white coat. "Qui reconnait cet homme?," wrote police in a tweet, which, in English, translates to "Who is this man?"
Authorities continued to search for the third suspect as evening approached on Tuesday. "In the entire country, there are homes being searched, people are being interviewed," Van Leeuw explained in a press conference, noting that in one suspect's home, police managed to recover a bomb and several other suspicious items. "During a house search in Schaarbeek, investigators found a nail bomb, chemical products, and an ISIS flag."
From his station in Brussels, CNN correspondent Frederik Pleitgen confirmed that authorities were conducting what he called a "major police operation."
"The police have cordoned off an area, maybe about 2.5 miles in size," Pleitgen told the network in a report on Tuesday evening. "... The raid that we're talking about here ... has been going on for about six hours. ... People are getting bussed out of the area, [and there are] people who have had to evacuate their houses."
At press time, authorities had not reported whether police had any solid leads on the third suspect, but a report by French-Belgian news network RTBF reported that their attention had been diverted by two suspicious packages, which turned up late in the day at the National Pensions Office. According to CNN, bomb disposal units were dispatched, but no other incidents had occurred onsite.