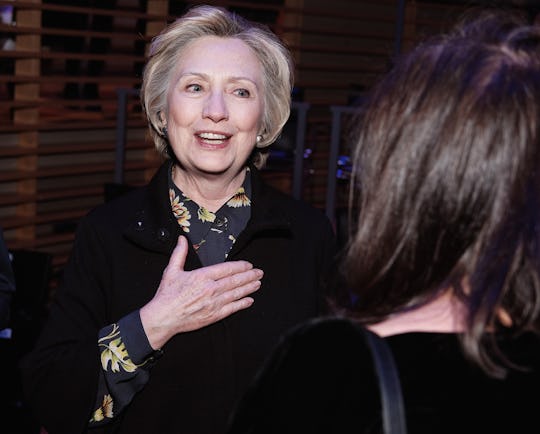 Theo Wargo/Getty Images Entertainment/Getty Images
This Photo Of Hillary Clinton Just Went Viral
During the 2016 presidential election cycle, it was almost impossible to not hear about Democratic Party presidential nominee Hillary Clinton's email scandal, in which she was criticized for using a private email server for official communications during her tenure as secretary of state. As it turns out, Vice President Mike Pence now has an email controversy of his own, after it was discovered that he had used a private email for official communications during his time as governor of Indiana. The irony of the situation was perfectly summed up this week after a photo of Clinton reading about Pence's email scandal went viral, prompting many on social media to speak out against what they considered to be a hypocritical difference in treatment for the two arguably similar scandals.
This past Thursday, The Indianapolis Star reported that Pence routinely used a private email account (an AOL account, nonetheless) to conduct business as the governor of Indiana; According to USA Today, Pence regularly discussed "sensitive matters and homeland security issues." To make matters worse, the account was reportedly hacked this past summer, while the presidential campaign was still underway.
This draws similar parallels to Clinton, who, in addition to using a private email server for official communications, used her Blackberry for all email communications, according to The Washington Post. Many on social media made note of the irony, given that Pence himself publicly criticized Clinton for her use of that private server.
In the now-viral photo, Clinton can be seen sitting inside an airplane cabin, newspapers spread across her lap, phone in hand. The former secretary of state appears to be looking down at one of the papers, a copy of USA Today, reading The Indianapolis Star's report. Clinton's glance at the headline is silent and powerful in its simplicity, and conveys a troubling double standard.
Despite this, not everyone believes that the two "scandals" are equal in their seriousness — including the vice president. "There's no comparison whatsoever," Pence told CNN recently — and he could be right. According to Fortune, while Clinton and Pence both used their own private emails for work, Pence's use of a private email account was completely legal in Indiana, whereas Clinton's private server was highly discouraged. And the sheer size of the situation matters — according to Fortune, Pence turned over 30 pages of emails compared to Clinton's 55,000 emails which could have pertained "the nation's top secrets," according to the Washington Post, which she was forced to turned over. (It's crucial to note that the FBI found that no criminal charges were warranted after a review of Clinton's emails, according to Reuters.)
While Pence's and Clinton's scandals do have their differences, their similarities are impossible to ignore — and the now-viral photo of Clinton reading about Pence's own email scandal perfectly sums up the underlying irony.