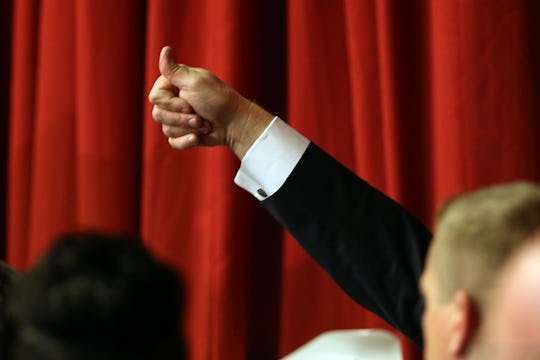 Spencer Platt/Getty Images News/Getty Images
Photo Of Trump Giving Thumbs Becomes Perfect Meme
There's a photo of President Donald Trump making the rounds on social media that has people laughing. And while that might not seem newsworthy, the humorous reaction from people on Twitter has drawn some attention. This photo of Trump and his deputies giving thumbs up has sparked hilarious memes and jokes, because the internet is perfect and humor is a great escape from the chaos that is Trump's administration and the news surrounding it lately.
Every day, there's something new in the news about Trump. Whether it's a new executive order, something he said to a reporter, the latest about the Michael Flynn controversy, or analysis of a press conference, there's no shortage of news about Trump and his administration. And at first glance, the latest photo of the newest president that is getting some attention might not seem newsworthy. But look closer, and there's plenty to talk about. That's where social media comes in. Twitter couldn't let the optics of the latest photo of Trump and many members of his team go, and with good reason. Not only are they showing off the very-Trump move of doing a "thumbs-up," the group is almost entirely made up of men — white men, at that. Make America Great Again?
First, here's the photo without any photoshopping or the meme-treatment. As Areva Martin, Esq. notes, it doesn't exactly bode well for race relations under this administration. All of the people in the photo are white, and, as aforementioned, they're all also men — save one. There is one woman just to the right of Trump in the photo, and she's white as well.
As you can imagine, Twitter had great fun with the optics of the photo.
"People are having a lot of fun mocking that crazy-ass picture of Trump and his deputies with thumbs up and strained smiles," Borzou Daragahi notes, with a few photoshopped examples of the picture, including one in which the faces are all replaced with an emoji of a bag of money — except for Trump, whose face is the poo emoji.
Tim Wrobel tweeted in reply to Trump's posting of the photo, "That's a lot of white people," pointing out that "45," as many people have taken to calling Trump, is not exactly making an effort to make his team seem diverse in the middle of Black History Month.
Comedian Patton Oswalt tweeted, "We took the Buttered Thumb Rectum Challenge! Ask your local alderman how YOU can be a "Thumb"-ler!
And @IMDRW said, "Donald Trump has the smallest 'thumbs up' out of everyone in the pic. #TinyHands"
The bill he had just signed was, according to Elite Daily, one that ends the Office of Surface Mining's Stream Protection Rule, a regulation to protect waterways from coal mining waste finalized during the Obama administration. Not great news, but at least Twitter tried to find the silver lining in all of this by finding the humor in the moment.
Emma Holland lamented the loss of the respect of the thumbs up gesture under Trump's presidency. "I admit it's a small drop in the bucket," she tweeted, "but Trump has completely ruined the thumbs up for the rest of eternity"
Twitter user @meakoopa tweeted, "who says Trump hates minorities when even a woman and a man in a non-blue or -red tie can help introduce pollutants to drinking water"
And @nycsouthpaw captioned the photo, "When the whole team is honored you've chosen them for the management of grandmother's trust."
What do you think the next #TrumpMeme will end up being about? Still, it's clear the issues preceding and following photos like this one aren't problems we can just laugh away.