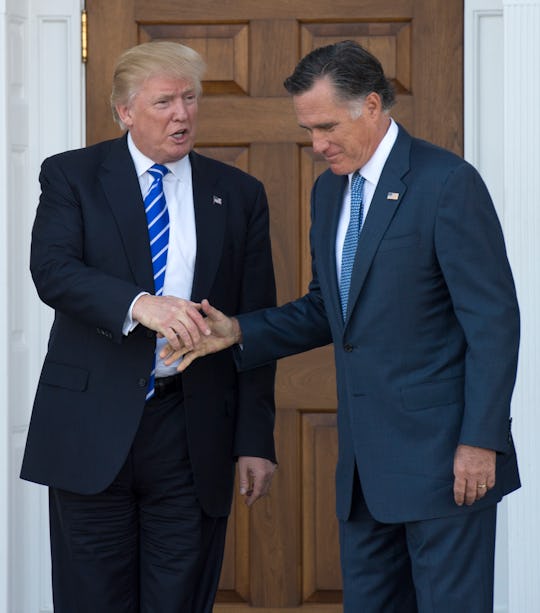 DON EMMERT/AFP/Getty Images
Photo Of Trump & Mitt Romney At Dinner Together Produces Plenty Of Memes On Twitter
The inside of Mitt Romney's head must be a very strange place at the moment. The former governor of Massachusetts spent the election putting up a fierce but futile opposition to Donald Trump. Now, he's in the midst of a protracted, very public Cabinet battle (but not the fun Hamilton kind!) as one of President-elect Trump's top contenders for secretary of state. In a photo of Mitt Romney and Donald Trump at dinner together, his face tells the whole story. No wonder social media is blowing up with memes about it.
Romney and Trump went to a four-course dinner on Tuesday night at Jean-Georges, a fancy Upper West Side restaurant, along with Trump's future chief of staff, Reince Priebus. Last time Trump went out to a public dinner post-election, he tried to hide it from his press press. This time, he made no attempt to be sneaky, so there were plenty of cameras to capture Romney having a civil dinner with the man deciding his fate — a man about whom he once said, "His promises are as worthless as a degree from Trump University."
In the photo making the rounds on social media, Mitt Romney looks as if each and every frog leg he ate at this Jean-Georges dinner came back to life in his stomach and started kicking his sphincter. Mitt Romney looks like Priebus just entered all of his information into the Death Clock website, and the day that came up was tomorrow. Mitt Romney looks like the waiter just announced that, for the fifth course, Trump would be slaughtering a bald eagle at the table.
Or, alternatively, Mitt Romney looks like he's being paraded around by a man he does not respect, forced into a public second interview for a job that could potentially allow him to do some good but also maybe make him do some bad, a job that would almost certainly involve spending a lot of time reassuring various foreign leaders that Trump didn't really mean what he said about them on Twitter.
Meanwhile, Trump looks like David S. Pumpkins at his most gleeful.
After dinner, Romney told reporters, "I believe America's best days are still ahead of us," while a silent scream reverberated inside his brain. Trump responded to a question about whether Romney would be secretary of state by saying, "We'll see what happens," and inwardly congratulating himself on creating America's most nightmarish new reality TV show.
After all of this, it's entirely possible that Trump will decide not to go with Romney. He's been considering other contenders like former CIA director David Petraeus, Tennessee Sen. Bob Corker, and, of course, his ever-faithful Rudy Giuliani.