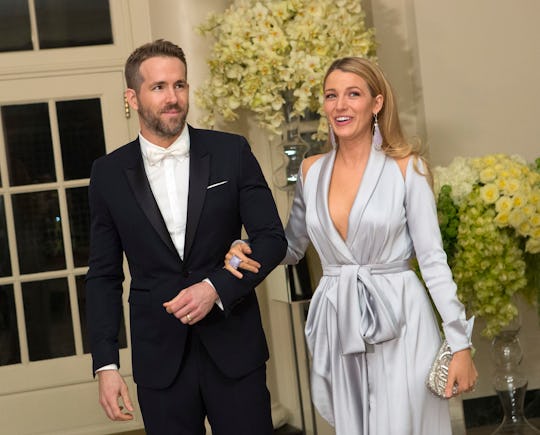 CHRIS KLEPONIS/AFP/Getty Images
Photos From Blake Lively & Ryan Reynolds' Wedding Don't Show The Bride & Groom
Blake Lively and Ryan Reynolds are pretty much perfect in every way. They're good looking, talented and maybe because they're so fiercely protective of their personal lives, they're a celebrity couple we can't get enough of. When Lively and Reynolds married in September 2012, it came as a total surprise to fans, and, naturally, people wanted to find out everything about the nuptials. But the couple wanted to keep the day private, so instead they cut an exclusive deal with Martha Stewart Weddings, which is why photos from Ryan Reynolds and Blake Lively's wedding are still, even after all these years, pretty hard to find. Sure, you can find snaps of the cake, the flowers, and even the venue, but pics the bride and groom are noticeably unavailable to the public. Good for them! Even movie stars deserve a part of their lives that isn't for public consumption.
The Martha Stewart Weddings team was behind creating the wedding, from the bouquet filled with pink jasmine and hydrangea, with a few petals dipped in rose gold, to her Marchesa couture gown. The wedding looks like the stuff Pinterest was created for, down to the dessert table overflowing with goodies.
But the event wasn't without a little controversy, despite the couple's attempts to tightly control it as much as possible. It was reported that no one, not even performers Florence Welch or Bette Midler, were allowed to bring in phones —along with every other guest— and they were sworn to utter secrecy, something that smacked a bit of neurotic self-importance to some. Who tells Bette Midler what to do!? Apparently, Blake Lively does. Pretty impressive.
But the choice of venue brought the most criticism. The wedding was held at the southern plantation outside of Charleston, South Carolina, called Boone Hall, which was a plantation that once kept slaves. The idea that the site of so much suffering and oppression of African-Americans could be whitewashed into some dreamy rustic open space for rich white people to have a fancy party felt a little gross to some folks. Boone Hall is also where The Notebook was filmed.
Regardless of personal opinions about Lively and Reynolds, most can agree that the two, by the look of things, are living a true life fairytale. Since the wedding on Sept. 9, 2012, the two have welcomed daughter James. And, just like the wedding, baby James, who was born on Dec. 16 of last year, was kept under wraps for weeks before any public announcement was made.
So, like most mysteries, fans just can't get enough.