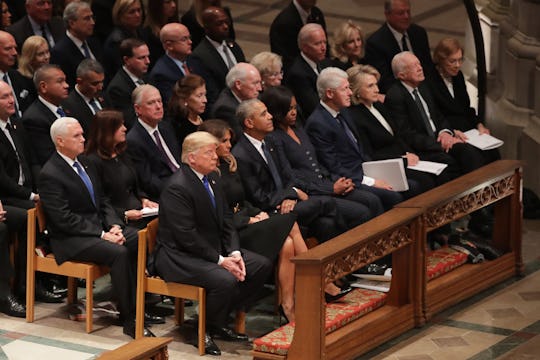 Chip Somodevilla/Getty Images News/Getty Images
All 5 Living Presidents Came Together For George H.W. Bush's Funeral — PHOTOS
On Wednesday, those in Washington gathered to honor the life of President George H.W. Bush, who died Friday at the age of 94. The state funeral took place at the Washington National Cathedral, according to People, and drew a crowd filled with dignitaries and political leaders — including all five living presidents and first ladies. Photos from George H.W. Bush's funeral service show that the former's president's death has proven to be a great loss to those in political circles as well as to Americans throughout the country, and that it was incredibly important for those on both sides of the political divide to pay their respects to the nation's 41st president.
Bush served in the Oval Office between 1989 and 1993, and though he is set to be buried in his home state of Texas, according to BBC News, the former POTUS had been lying in state at the U.S. Capitol ahead of his funeral at the Washington National Cathedral, and the invite-only service drew some notable names.
In addition to his family, including his son, President George W. Bush, who greeted guests as they arrived and who also delivered a eulogy for his father, former Presidents Jimmy Carter, Bill Clinton, Barack Obama, along with current President Donald Trump, were all in attendance.
Bush's funeral marks the first presidential state funeral since 2006, when President Gerald Ford died at his California home at age 93, according to The New York Times, and while the invited guests may now differ substantially, much of the custom and tradition remains the same as it has for many years. According to USA Today, that's largely because each president is asked shortly after taking office to begin planning his own funeral service, and the coordination for the eventual event is always handled by the Army Military District of Washington. Presidential state funerals often last about five days, culminating in the final service, before the president is buried.
Yet, even with all the formality at Bush's funeral, there were still a number of personal touches. In addition to the touching eulogies given by George W. Bush, and Bush biographer Jon Meacham, who called the late former president, "America's last great soldier statesman, a 20th century founding father," according to NPR, three of Bush's granddaughters also read Bible passages.
In fact, as tense as it may have been for the presidents and former first ladies to sit together in the front row — according to The Guardian, the Trumps shook hands with the Obamas when they sat down, though did not appear to acknowledge the Clintons or the Carters, who were seated further down — George W. Bush did appear to lighten the mood slightly in a pretty adorable way, when he and his wife, Laura Bush, greeted the group after their arrival.
On Twitter, users spotted George W. Bush appearing to hand Michelle Obama a piece of candy as he went down the line shaking hands, a nod to their viral exchange at the funeral of Arizona Sen. John McCain.
On Thursday, a second service will be held for George H.W. Bush in Texas, according to BBC News, before the Bush 4141 train — named in the late president's honor — will transport his body to the Bush Presidential Library and Museum in College Station, Texas, according to NPR. There, he will be buried alongside his wife, Barbara, and their daughter Robin, who died at age 3.
As much as the funeral was clearly an important event to those in Washington though, a number of other leaders in dignitaries from other countries were also in attendance to pay their respects. Former Canadian Prime Minister delivered a eulogy at the service, in which recalled his deep respect for the POTUS, while Jordan's King Abdullah II, German Chancellor Angela Merkel, former UK Prime Minister John Major, and Charles, Prince of Wales, were also in attendance, according to BBC News.
As much as Bush's funeral was certainly a day for mourning, the service was a testament to his legacy, and the incredibly fond memories so many clearly had of him — not only as a president, but simply as a person. And though there were many elements of the funeral that made that clear, the attendance of all the living presidents including Trump was further proof that honoring George H.W. Bush felt important to everyone.