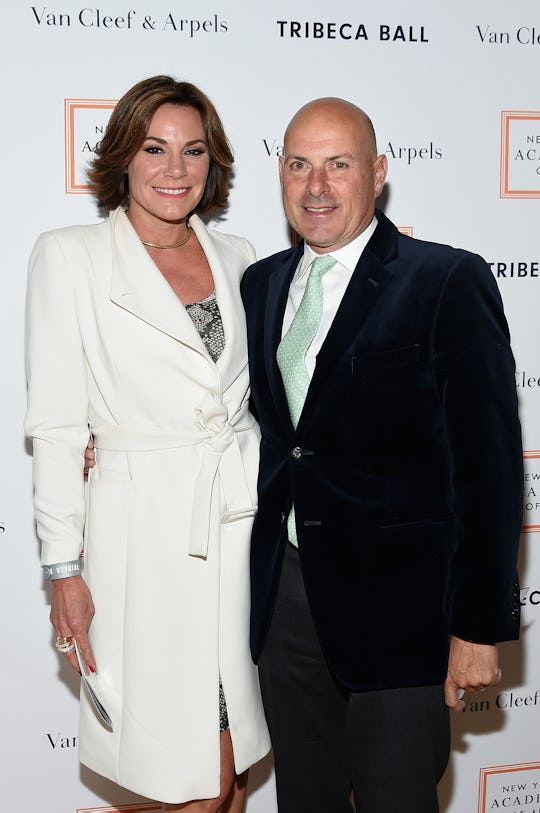 Mike Coppola/Getty Images Entertainment/Getty Images
Luann & Tom's Wedding Was A Magical Time
Luann de Lesseps' wedding to Tom D'Agostino, Jr. was a triple celebration: the weekend of their nuptials also happened to be New Year's and Tom's 50th birthday. It was just a quick few months after they'd gotten engaged in February 2016, though those months were filled with drama that fans saw play out on The Real Housewives of New York. Bethenny Frankel was the one to drop the news that Tom had supposedly cheated on Luann right before their engagement party and while it caused a lot of strife — both between Luann and Tom, and between Luann and the other women — she ultimately decided to take that walk down the aisle, as these photos from Luann de Lesseps' wedding show. And it was a truly magical day.
Luann was previously married to Count Alexandre de Lesseps, with whom she has two children, but they divorced in 2009 and remain friendly. Luann enjoyed the dating scene for a few years, as RHONY fans can attest, but once Dorinda Medley introduced her to Tom, Luann decided to settle down. Now she's officially Luann D'Agotino, and no longer the Countess. Though, of course, she'll always be the Countess in our hearts.
Pictures from Luann's wedding were captured for People and InTouch, but there were also plenty of snaps to be found on social media.
Luann and Tom were married in Palm Beach over a three-day weekend that started off with a rehearsal dinner on a yacht. A total of 250 people attended the ceremony, though there weren't many RHONY cast members in the group. Dorinda was there as one of the bridesmaids, but aside from her there were only former co-stars Jill Zarin and Kelly Bensimon in attendance. Other Real Housewives stars like Cynthia Bailey from Atlanta and Marysol Patton from Miaimi showed up, too.
Before the wedding, Luann told People, "I want people around me who are celebrating our love and who are really positive about our life together. I wanted it to be family and friends and not a Housewives thing." Though some women from the Housewives franchises were there (those closest to Luann, at least), she didn't want the event to be "overriden by Housewives."
It was an opulent weekend for sure, complete with multiple dresses (Luann intended to wear three gowns but ended up wearing "only" two), multiple cakes, and even one with a Marilyn Monroe impersonator inside it. For some reason.
Luann set out to create the wedding of her dreams, and it looks like she accomplished it. Let's hope their marriage together proves to be just as much of a fairytale happy ending as the big day.