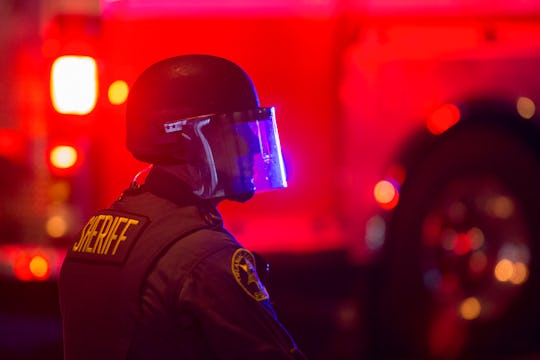 David McNew/Getty Images News/Getty Images
Photos From The Anti-Trump Riots Show Escalating Violence After The Election
It's pretty safe to say that American President-elect Donald Trump's election win came as a shock to many people. Not only was he trailing former Secretary of State Hillary Clinton in the polls, but many found it hard to believe that a man who made racist, xenophobic, and sexist comments throughout his campaign, and who has been accused by multiple women of sexual assault, could actually win. But win he did, and it's left a lot of people afraid and angry. Peaceful protests have taken place all over the country since the results were announced, but photos from the anti-Trump riots show that, in some cities, the anger towards the election has become dangerous.
According to USA Today, protests against Trump's election win took place in at least ten cities on Wednesday, including Chicago, New York, Los Angeles, Philadelphia, Boston, Washington, D.C., and Seattle. The thousands of protesters that gathered chanted anti-Trump messages and carried signs that said "Not my President," and "Impeach Donald Trump." In many cases, the protests closed down streets and brought traffic to a standstill, and in some cities, protesters burned American flags and Trump effigies. But according to CNN, on Thursday night, a protest in Portland, Oregon turned violent, with police declaring the demonstration to be a riot.
The riot began as a peaceful march consisting of about 4,000 people, marking the third consecutive night of protests in the city, according to local news station KOIN 6. But it quickly escalated, when some protesters began spray-painting graffiti on buildings and smashing windows of businesses, restaurants, bus shelters, and even numerous cars in a Toyota car dealership lot.
Updates about the protests were posted to the Portland Police Department's Twitter account throughout the night, and after numerous tweets warning about reports of violence and illegal activity, police designated the protest a riot, and referred to the rioters as "anarchists."
As the riots continued, police announced that they'd begun using "less lethal munitions" against the crowds, and that the riot resulted in "at least 29" arrests.
In response to news of the riots and protests, Trump tweeted Thursday night that he thought they were "very unfair" and "incited by the media." Earlier in the day, Trump and President Obama met at the White House for a 90-minute private meeting in the Oval Office, according to The Guardian.
Despite having claimed on the election trail that Obama "has been the most ignorant president in our history," and that he's "the founder of ISIS," according to the Los Angeles Times, Trump told reporters following their meeting that he thought the current president was a "very good man," and that they'd had a successful first meeting, according to The Guardian:
We had never met each other. I have great respect. The meeting lasted for almost an hour and a half. And it could have – as far as I'm concerned, it could have gone on for a lot longer.
A few hours after tweeting about the protests being unfair, Trump returned to Twitter, and praised the protesters' "passion for our great country," according to TIME.
Although many people have expressed fear and uncertainty over what a Trump presidency is going to look like based on the divisive policies advanced during his campaign, Trump said in his victory speech Tuesday that it was "time for us to come together as one united people," and pledged he "will be president for all Americans," according to MSNBC. Judging from the protests, it seems that not everyone has felt reassured by that message, but, hopefully it will prove to be true.