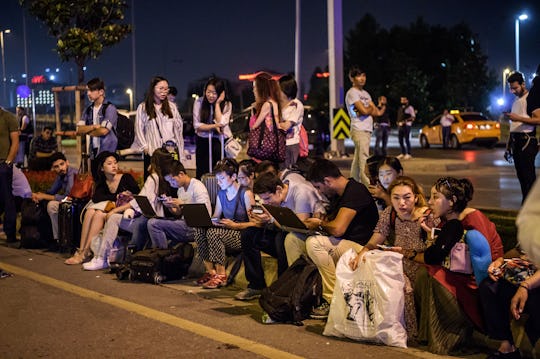 OZAN KOSE/AFP/Getty Images
Photos From The Istanbul Attack Scene Show Devastating Chaos & Confusion
At least 31 people were killed and hundreds were injured on Tuesday after three suicide bombers detonated explosive devices outside the Istanbul Ataturk Airport in one of the worst terror attacks in Istanbul's history. The attackers opened fire outside the arrivals gate at the airport, one of the world's busiest, before blowing themselves up when police retaliated. Photos from the Istanbul attack scene show chaos and confusion.
Passengers were seen crouching on the ground and shouting "Get down!" Outside the airport, the scene was no less chaotic. Medics ferried bloody bodies into ambulances and tearful family members hugged each other, awaiting news from loved ones.
"There was a huge explosion, extremely loud. The roof came down. Inside the airport it is terrible, you can't recognize it, the damage is big," Ali Tekin, a witness, told Reuters. Shattered glass and fallen tiles lined the inside and outside of the terminal, and a AK-47 was seen strewn on the floor.
"The attack, which took place during the holy month of Ramadan, shows that terrorism strikes with no regard for faith and values," said Turkish President Tayyip Erdogan. He added that the attacks could have happened in any city and called for a united war against terrorism.
Photos of the scene in the aftermath were devastating:
Turkish Prime Minister Binali Yildirim said he believed the attack was carried out by ISIS, but the investigation is ongoing. So far, no group has come forward to claim responsibility.
Graphic video footage from the airport posted on Twitter showed what appeared to be one of the attackers falling down and then detonating himself. Airport employees ran out of the building. Flights to and from the airport were halted and passengers were transported to a hotel.
"Our world is turned upside down," Asli Aydintasbas, who been aboard a diverted flight told The New York Times. Istanbul "was a happening town, cutting edge in arts and culture — it's the kind of place that Conde Nast would write about," she said. "Now this is a Middle Eastern country where these things happen."
The Red Crescent encouraged people in Turkey to donate blood at donation centers and avoid roads to allow ambulances to get to the scene.